Intex has just launched the Aqua N4 budget smartphone for Rs 6,310 in reply to the launch of the Moto E which has taken the market by storm. Chinese and Indian manufacturers are finding it a bit hard to rival the Moto E courtesy of its immense  value for money price tag but the Intex Aqua N4 seems like a pretty good attempt to create a sub Rs 6,500 segment and be the better one in it. Let us take a quick review of the device and see what it has in store.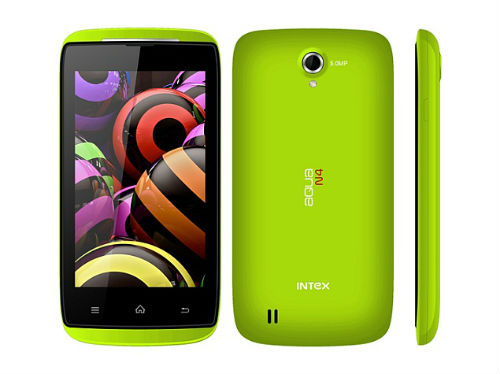 Camera and Internal Storage
The Intex Aqua N4 has been given a 5MP camera at the rear coupled with a LED flash. The rear camera may not be the one which will win you any photography awards but will surely get things done in times of need. The front of the smartphone gets a 1.3MP camera for video calling which does not have a really high quality but then again, is just good enough to help you once in a while.
The internal storage capacity of the Aqua N4 stands at 4GB which can be expanded with the help of a microSD card by another 32GB. Every other budget smartphone in the sub Rs 10,000 segment has the same so Intex has done well to bring it to a sub Rs 6,500 segment.
Processor and Battery
Doing duty at the heart of the Aqua N4 is a 1.2 GHz MT6582 Quad Core Processor which gets mated to a 512MB for multitasking. The processor has already showcased its worth but its performance is slightly limited by the RAM. A 1GB RAM would have sweetened the deal.
At the heart of the smartphone is a 1,400 mAh battery that is good enough for a budget smartphone but it falls slightly short on terms of performance. It will last a bit under a day and a slightly larger capacity would have surely done wonders for the device.
Display and Features
The display unit of the Aqua N4 is a 4.0 inch unit which has a resolution of 800 x 480 pixels. It is a TFT unit and gives you maximum value for money in this price range. We could not have expected more in this range and the Aqua N4 does not really disappoint from a budget smartphone's point of view.
It runs on Android 4.2 Jelly Bean but we highly doubt if it will get upgraded in future. Budget smartphones usually don't get upgraded but Lava and Motorola are working towards changing that (Lava has promised a KitKat update for Iris 406q and Motorola has promised an update for Moto E too).
Comparison
The Intex Aqua N4 will be entering in a highly competitive sub Rs 7,000 segment which has just been fuelled by the entry of the Moto E which will be its prime competitor. Other devices which it will be up against will be Lava Iris 406q, Micromax Canvas Mad, Xolo A510 and Xolo Q700S.
Key Specs
| | |
| --- | --- |
| Model | Intex Aqua N4 |
| Display | 4 inch WVGA |
| Processor | 1.2 GHz Quad Core |
| RAM | 512 MB |
| Internal Storage | 4 GB, Expandable up to 32 GB |
| OS | Android 4.2.2 Jelly Bean |
| Camera | 5 MP/ 1.3 MP |
| Battery | 1,400 mAh |
| Price | Rs 6,310 |
What we Like
Price
Value for money factor
Processor
What we don't like
Limited RAM
Dated Operating System
Conclusion
The Intex Aqua N4 comes across as quite a value for money offering and we can't really find fault with it at this price point but somehow the Moto E still makes a lot more sense at Rs 6,999. Intex has done well to launch a good value for money smartphone and it will surely do well in areas where there's still a dearth of online shopping and people prefer buying handsets in person.