Selfies are being the trend these days and we see many people clicking self portrait photographs using digital cameras and smartphones. The first selfie dates back to 1839 and it appears to have taken a long time to execute. With the enhancement in the shutter speed and ease of clicking selfies, smartphone users find it simple to capture such snaps and share them on social networking sites. But, smartphones are limited as it is tough to use these devices to capture post-worthy selfie in close-up or long distance. But, there are smartphone camera remotes that help in clicking self portraits effortlessly. Today, we have listed some of them that can assist in taking gorgeous and well timed selfies.
Muku Shuttr
Usually, selfies are limited by arm-length, but the Muku Shuttr has solved this issue. It is a remote shutter is compatible with a series of high-end smartphones and tablets available in the market and can be used with the native camera app in the phone. Also, it does not require an additional third party camera app to function effectively. It can be paired with the phone using Bluetooth and it offers more control for the photographers.
This smartphone remote is compatible with a range of devices including iPhone, iPad, iPod touch, Galaxy S4, Galaxy S3, Galaxy Note 3, Galaxy Note 2, Galaxy Note 10.1, Nexus 4, Nexus 5, Nexus 7, LG G2, G PRO, G Flex, HTC One M8 and Sony Xperia Z.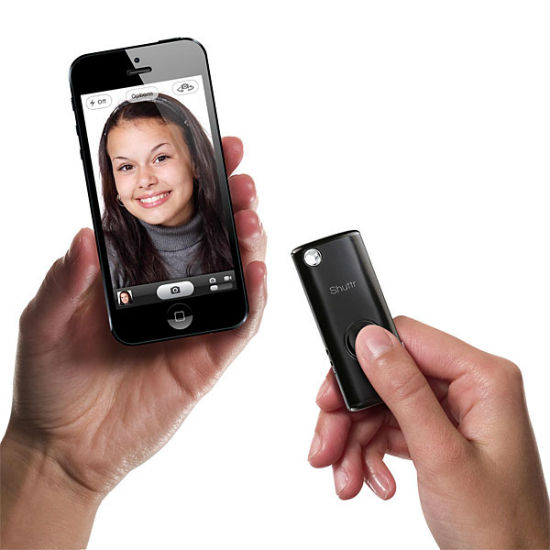 Firebox Smartphone Camera Remote
This devices has a free application that can be installed on the smartphone to automatically sync the device to the remote. Once this is done, you simply have to press the button to trigger the shutter to capture the selfie. The device will get a wireless range of up to 3 meters and you can even capture a group selfie with not much hassle. The device can be mounted either in landscape or portrait with handy removable stand and has a button to switch between front and back snappers. This smartphone camera remote can be used with almost all the latest smartphones and tablets at click attractive selfies.
iLuv Selfy Bumper
This is smartphone case and remote control that takes capturing selfies to an all new level. It has been especially designed to be used with the iPhone 5/5s and Samsung Galaxy S5 smartphones. The device features a slide-out Bluetooth remote control that will allow you to trigger the default camera app. It is available in black and pink color variants and the case is shock absorbent to protect the phone from accidental drops.
SNAPShot Remote
With the SNAPShot Remote, you can take complete control of your smartphone and there is no need to reply on any timer or someone else. The detachable stand can be used along with the smartphone to click the best snap. It is small so that you can hold the device comfortably and it is ultra-portable enabling clicking selfies an easy task. It also comes with an Android and iOS app that can be downloaded on the device. This accessory can work well with top-tier smartphones and tablets without much hassle.
Applications
Apart from the smartphone remotes that can be used to control the handsets to take selfies, there are numerous applications that can also facilitate in the same. Some of them include the Click & Go for Android, Click & Go for iOS, SNAPShot Camera Remote for Android, SNAPShot Camera Remote for iOS, YouCam Perfect for Android and many others.
Conclusion
Some of these accessories that are mentioned above should be useful for you to capture attractive selfies without anyone's help. They do cost you an amount to invest on them, but if you are a selfie enthusiast, you would certainly not mind shedding few extra bucks on them. Also, there are a slew of free applications that are noteworthy as they deliver amazing user experience.