You're going to be using the lock screen each time you pick up your phone, it may as well be something you like to look at. In addition to looking good, the lock screen should have added functionality that compliments the many features of your actual device. You should be able to access your most used apps at a single touch of the screen. Let's look at the ways which help to add shortcuts on the lock screen.
System Settings
Samsung phones allows you to add shortcuts on your lock screen from the system settings itself. You can add shortcuts of the apps to your lock screen with ease. This is a feature that is only present in Samsung phones right now.
This feature helps you quickly access your apps without unlocking your phone. Other features like missed call notification, messages come as standard with the bundles OS.
Cover Lock Screen (Beta)
Cover Lock Screen (Beta) is an app which helps you get quick access to your apps when needed. The app features a peek feature where you can peek into all your apps from the lock screen. You can also switch between apps with ease.
Cover Screen learns from your usage and places those apps in the lock screen. The app has an average rating of 4.4 stars and approx. 1 million downloads. The app comes with different profiles which get automatically activated and thus displays the apps in your lock screen. It is an excellent app for those who want quick access to their installed apps from the lock screen.
LG Optimus Lockscreen
LG Optimus Lockscreen is a lock screen application which makes your phone looks exactly like LG optimus G. the app features a variety of affects like particle, crystal, dew drop, ripple and white hole effects. You can also set a custom wallpaper for the lock screen.
You get the option to add shortcuts to your lock screen for quick access. Owner's info, network info, missed call notification, message notification come as standard with this app, though you can change them depending on your liking. The app has an average rating of 4.5 stars with 17,000 users rating it as 5 stars.
Start
Start gives you quick access to all the important functions on your phone when you wake it up. Start makes using your phone easy, cool and saves you a lot of time. Start keeps you up to date with news feeds, social networks and more. It also provides rapid access to media, weather and music applications without unlocking your device.
Start gives you a top class user interface and a better performance. Features like call, text and mail can be done from the lock screen. Also you can select the apps which you want to access from the lock screen. The app has close to 5 million users and an impressive rating of 4.4 stars.
Notification toggle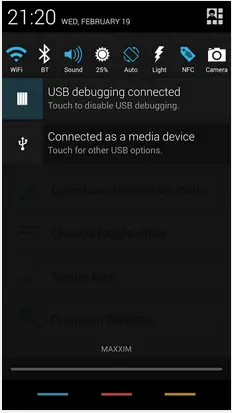 Notification Toggle creates notifications in the Android status bar to let you quickly switch WiFi, Bluetooth, Silent mode, Screen rotation and Flight mode on and off or to adjust the screen brightness. In the settings, you can choose which notifications should be active. This app gives you the functionality to customize icons and colours. You can add all the apps and shortcuts you need and access them by sliding the notification bar directly from your lock-screen.
The app has close to 5 million users and an average rating of 4.5 stars with more than 24,000 users rating it as 5 stars. You can also use some of its additional features if your phone is rooted. Overall an impressive app and makes your job pretty easy if you have a host of apps installed in your device and you don't want to waste your time searching for them.
Conclusion
These ways are surely going to make your life easier. And if you are a power user i.e. you fiddle with your phone then these ways are surely going to provide you with quick access to your mostly used apps. All the above mentioned apps are downloaded by millions of users and hence are going to improve your efficiency.