Modern smartphones have eliminated the requirement of portable camera devices, with the inclusion of powerful camera lenses in the hardware. Smartphones allow users to capture important moments of their life and save them as photographs. These precious moments may last for only that long – moments – and therefore it is necessary for smartphones to have quick access to the camera as discussed in our article to quickly access the camera app and to use gestures, motions etc. in order to access the camera app.
However, it is not always snaps which the users might require to capture snaps – recording videos is as important, if not more than merely taking pictures. While users can launch the camera app and then launch the video recorder function through that app, this may consume seconds which again might be too precious to waste, especially when recording significant moments. To avoid delay in starting a video recording, there are some options available for the user, as discussed below.
Accessing Video Camera from the Lock Screen
Many manufacturers provide users with certain shortcuts and widgets which allow users to quickly launch the video camera app. However, an app with functionality of this sort might not have been provided on every device by  every manufacturer. In that case, users can go on to install one of the following apps from the the Google Playstore, and add them to the lockscreen, through an app icon or through a widget. On information on how to do this, kindly refer to our article on adding apps to the lock screen.
FastCam
FastCam provides users with a one-touch solution to take videos directly. Unlike other apps that will be mentioned here, FastCam does not merely provide a shortcut to the stock Camera app present on the smartphone – it consists of a video recording app in itself, which launches at once when the FastCam icon is touched. To turn off recording the video, users can press the back button.
FastCam also provides users with the option to select the folder to save the recorded video, to choose whether to use flash or not, to select the video quality etc.
Camcorder Shortcut
Camcorder isn't actually a video recording app – it would be more apt to call it a video recording shortcut. It places an app icon for the user, which can be added by the user on the lock screen or the home screen, which allows easy access to the Video Recording module of the default Camera app available in the device. This allows user to access the camera app in order to start video recording with a single touch.
Other Apps
Apps such as the VideoCam Direct, Mashcord etc provide similar functionality and act as a shortcut to the Camera app to directly start up Video Recording.
Recording Videos with the help of Motions and Gestures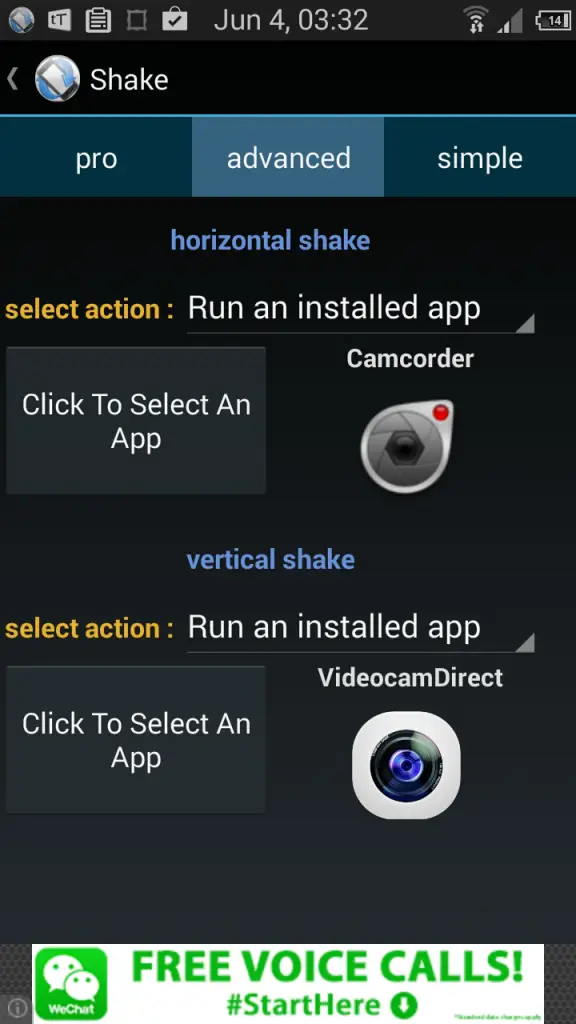 There are various apps available on the Play Store which allow you to access other apps through device motion, shakes etc. Once such app is Shake, which can be used to access any app by merely shaking the device. It provides the option of choosing different apps to open for Horizontal and Vertical shakes, or to open one app for a simple shake, and can be used even when the device is locked. Users merely have to set a direct Camcorder app to open on the shake in order to quickly start recording videos.
Tasker is another app which can use motion to automate the task of opening the Camera app. To write a task in Tasker which opens up a Camcorder app, users should first create a profile, through the plus '+' sign on the lower right corner. Then a 'Sensor' event to trigger it through a 'Shake' can be added in the window which opens. Once a profile has been created and an event to trigger it has been added, users can assign a task to it by choosing 'New Task' in the menu that opens by default.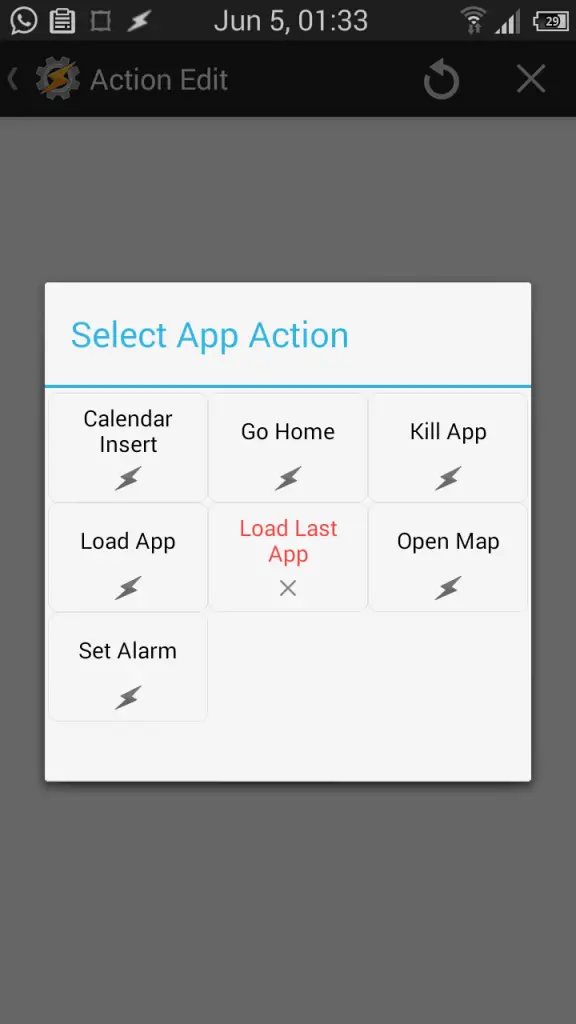 The task can have an 'App' action with a 'Load App' sub-action, with the Camcorder or Video Recording app set to open by default. Thus, once this profile is thus triggered through a shake, the Camcorder/Video Recording app will open through Tasker. Not only does Tasker allow users to open apps using device shake, but it can also record custom movement of the device and open applications as per the repetition of these movements. Moreover, it can create widgets for Camcorder apps which can be placed on the home Screen or the Lock screen.
Users might be able to skip the lock screen when the device is in their pockets in order to access Video Recording apps using the various apps mentioned above, but they will find it hard to open these if they are already in the process of using the device – say making a call or browsing the web through a Browser.
In order to overcome this shortcoming of these apps there exist some other apps which can provide access to Video Recording or Camcorder apps through screen gestures. For example, SwipePad is an app which provides virtual pads which can be dragged from various edges of the device, as per the user's choice. These Pads can contain up to 12 customizable slots where app shortcuts can be placed, including the Camcorder app shortcut. Other similar apps like the Swipe Panel, Switchr etc. provide similar functionality and access.
Conclusion
An efficient, fast and reliable Camcorder or Video recording app can make taking videos an excellent experience for the users. With one such app, users can make sure that significant, precious portion of their lives are digitally stored, and can be viewed at a later stage. Thus in the end, these apps help in providing something extra to the user and his Android device, and therefore help in enhancing the Android experience.