Smartphones or tablets are highly useful gadgets and they resolve the need to carry multiple gadgets as they have all the required features and functionality. But, while driving, these devices would become pretty distracting with non-stop notifications of incoming calls, messages and emails. Also, it would be tough to check the navigation and other driving related aspects. Understanding this, Google came up with an application that can make the smartphone or tablet a personal navigation and infotainment device. These applications are very useful in providing information such as car location, car maintenance and other details that will enhance the driving experience of users. Here we have come up with some of them available on the Google Play Store.
Car Home Ultra
The Car Home Ultra is a car dock app that will make using the phone or tablet easier and safer while in the car. The app is free to use for a trial period of 30 days and later you will have to purchase the premium version of the same. There are up to 18 shortcuts that help in launching applications, navigation to a specific location or dial numbers. Some of the other features of this app include integrated media controls, location alerts, color schemes, custom shortcuts, speaker mode when docked, auto Bluetooth on/off and more.
Car Widget
The Car Widget app is simple app and it displays a 4×4 widget on the home screen of the Android smartphone or tablet. There are six customizable shortcuts for the car centric shortcuts such as Navigation, Media Player, Podcast Player, Phone and other features that the users access frequently. It can be set automatically and tweaked as per the phone's settings such as disabling Wi-Fi, turning on Bluetooth, adjusting the volume levels of calls and media and more.
Car Dashboard
Car Dashboard is also a useful Android car dock app and it can be used as a speedometer or car dock home screen. Users can place and effortlessly access your favorite apps or settings directly from the home screen shortcuts. This app automatically launches when the device is put into a car dock and it provides information such as speedometer, speed alerts, current location and temperature, max speed and other. While this is a free version of the app, there is a Pro version as well that is ad free and an option to show the current street.
iOnRoad Augmented Driving Pro
The iOnRoad is multifunctional Android car dock app with the aim to alert the users about how close they are to the front vehicle, when to apply the brake and when the vehicle is close to the sides of the road. All that has to be done is to dock the device to the Android card dock or windshield mount and adjust the device's camera to point out. Apparently, with the camera, the users can track the vehicle's position and how close it is to the other vehicles on the road. It also offers other Android car dock app features like speeding alerts, car locator option, video and image capturing, automatic calls direction to speakers and SMS notification reader.
Custom Car Home
The Custom Car Home provides a more personalized experience for car dock and it also has three home screens with six customizable shortcuts instead of having only one default screen with predetermined shortcuts. Users can auto-enable Bluetooth mode and speakerphone that paves way for a powerful and less distractive driving experience. The app is available for free, but the pro version has benefits such as creating a Tasker or Locale profile that applies additional car-friendly settings including GPS, AutoBrightness and more.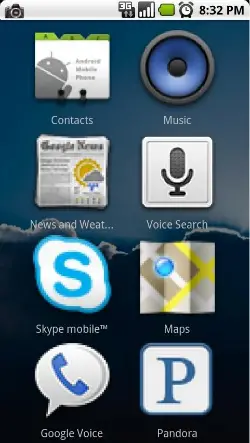 Other Similar Android Apps
While the aforementioned Android applications are useful, there are other apps on the Play Store such as Car Mode, Car Mode Control, Ultimate Car Dock – Dashboard and Car Dashdroid (Car Dashboard).
Car Mode Apps for iOS
The above listed ones are Android applications and here are a few iOS applications as well. Awesome HUD, Drive, iCar Mode, Car Dock Mode and iOnRoad Augmented Reality Driving are a few applications worth mentioning.
Conclusion
Obviously, the applications that we have listed out for you to enjoy an efficient and less distractive while driving experience are useful with impressive features. But, they are not the only options available for the smartphones and tablets as there are a plethora of such apps. They will provide easy access to some of the common services that you use without touching the device while driving.