Undoubtedly, Google competes with its rival Apple in every possible aspect and the vice versa. Soon after Apple announced the Siri voice assistant, Google came up with the Google Now with a lot of similarities. The latter was highly capable of modifying the user experience of the Android platform and it is gradually gaining more and more users and will surely become one of the best voice assistants in future.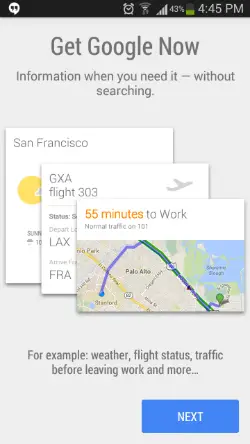 Practical Uses
The main reason for its growth is its usefulness and the inclusion of cards to provide information such as time, location, weather and more. Here we have listed some of the practical uses of Google Now.
Essentials
Google Now helps in browsing the web and you will simply have to say anything like "Post to Google+", "Open (website)".
You can use Google Now to open any application that is stored on your Android device. All you need to do is say "Open (app name)".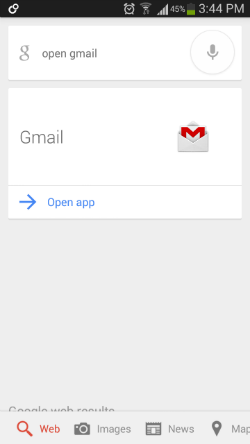 Other common uses of Google Now include "Take a picture", "Record a Video" or search for anything on the web.
Communications
You can make calls or send messages to anyone in the contact list using this feature. All you should do is to say "Call (contact name)", send SMS to (contact name)".
Despite calls and messages, you can also send emails to multiple recipients by voicing out the command, "Send email to (Recipients names)".
In addition to these, Google Now helps in posting updates on its own social network "Google +". Simply say, "Post to [Google+]: [Update Message]."
Productivity
When you are in a different nation, Google Now become handy helping you with time conversions, currency conversations, Google Translate Card with common phrases and more. Simply say, "(Convert) currency/measurement (unit) to currency/measurement (unit).
Google Now doubles as a reminder or alarm. You can probably set a reminder for something that you need to do or for someone's birthday. Also, set an alarm for a specific time to wake you. Say, "Remind me to (check mail at time)" or "Wake me at (time)".
Navigation
Google Now lets you to set addresses of your home, workplace, hangout spots and more and you will simply have to call out the destination to get the route, duration and other details. Say "Navigate me to (place)" or "How far is (place 1) to (place 2)".
You can also use the service to find nearest destinations such as restaurants, popular places and others.
Interestingly, it helps in tracking the flights for you by providing you with updates regarding delays and estimated arrival times. Access flight information by saying "Flight (number)", "Flight status (number)", "When will flight (number) depart or arrive".
Information
You can search for recipes of your favorite dishes using Google Now to search ingredients, convert the measurements and more tips hands-free. For instance, say "Cake Recipes"
If you are a sports enthusiast and like to keep track of details regarding several sports teams, Google Now will help you do the same with automated cards that highlight the scores and upcoming tournaments. For instance, ask Google Now, "When is (next IPL)".
With the voice assistant, you can also get to know the whereabouts of celebrities by asking questions such as "How old is Amitabh Bachan?"
Crazy Uses
Besides these practical uses, users still make use of Google Now for funny stuff. The service does respond weirdly to such questions and takes you to the search results page. Have a look at some of the funny or crazy such questions and the responds given by Google Now.
On asking "Make me a sandwich", Google Now responds, "What? Make it yourself".
If you ask "When am I?" it says, "The present, of course."
Try asking "Who am I?" and it simply opens up the search results page for the same with displaying personality test pages and the movie titled similarly.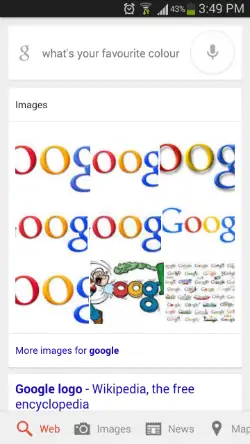 Asking "What is your favorite color?", Google Now says "It"s hard to pick just one" And displays images of Google logo in the results. These are some of the funny stuff people do on Google Now.
Conclusion
Google Now is a one stop portal to search anything on your smartphone or on the world wide web in fastest possible way. You don't have to locate apps and trigger them, Google Now will do it for you in a hazel free way. Its efficiency depends more on the speed of your internet connection and less on your chipset. If you haven't been using this powerful personal assistant from Google till now, now will be a good time to start.