Earlier this week, Flipkart was in the tech headlines for prepping the launch of its tablet brand labeled DigiFlip. It is claimed that these will be launched via the e-commerce portal, however Flipkart denied commenting on the same.
While there was no confirmation that the leading online retailer will be launching tablets under its own brand, we at GadgetstoUse have received an invite from Flipkart for an event on June 26, 2014. It is confirmed that the retailer will be launching its tablets at this media event.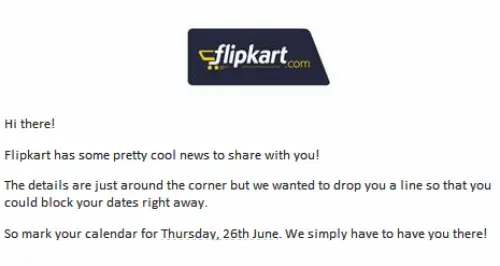 Flipkart is already known for selling a range of electronic and computer accessories such as speakers, headphones and pen drives under the DigiFlip brand. It is claimed by industry experts that Flipkart will have to face a tough competition with the other tablet makers in the country such a Micromax and Xolo and global players like Apple and Samsung that are dominant in the market.
Despite the several challenges, Flipkart can succeed in the tablet market segment with its popularity and user base. It also has the advantage of a cost-efficient distribution network.
Let us wait and see if the Flipkart's tablets can be successful in India.