Probably you have had difficulty in falling or staying asleep last night owing to stressful work loads, exam preparations, or indulging in late night TV. It would definitely be great to get to know good sleep habits and understand those things that keep you from getting a night's good sleep. If you are wondering how to get execute this, there are smartphone applications and sleep tracking gadgets that will assist in monitoring your sleep cycles. Let us take a look at some of these applications and gadgets below.
Applications to Track Sleep Patterns
As smartphones are an integral part of our everyday life, we have listed some of the smartphone applications that help in relieving the issues and getting rid of sleep related problems.
Sleep As Android
Sleep As Android does a great job of tracking your sleep cycles. The was intended to just wake you gently at the best possible time of the morning when your sleep cycle was at the best time for you to rise, but the app been modified a lot since then. The app still helps you track your sleep and shows you a graph of your sleep habits overnight warning you about sleep deficiency. It would also you in getting back to the regular sleeping pattern.
Sleep Cycle
Sleep Cycle uses the accelerometer inside your smartphone to detect your movements as you sleep. Consequently, the app will know when you toss and turn and when you wake in the middle of the night. The app collects its data and then presents it to you in easy-to-understand graph and lets you even mark conditions for the night, including behaviors you may have changed. The app also functions as an alarm clock and will wake you to your own music or any one of the soothing alarm melodies.
SleepBot
SleepBot is a sleep cycle tracker that records your movements and sounds throughout the night and also acts as a smart alarm. The app is laid out nicely and is very easy to use with a pretty straightforward interface. When the app is launched you can set an appropriate time for an alarm and choose to activate any of the three options: Smart Alarm, Track Motion and Record Sound. With the comprehensive sleep analysis that presents detailed motion/sound graphs to play back sleep talk, snores and more.
Other Similar Applications
There are numerous other applications that can help in getting a good night's sleep by understanding your sleep pattern and few of them are Deep Sleep, Sleep Time, aSleep3 and others.
Gadgets to Track Sleep Patterns
Besides apps that can be downloaded and used on the smartphone to understand your sleep patterns, there are certain gadgets that can also be picked. Here we list some of them.
FitBit One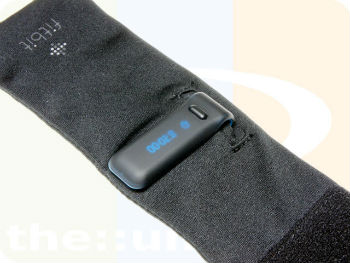 Sleep tracking is one of the features of the FitBit One. All you need to do is just slip your FitBit One into the included wristband and set it to sleep mode. It will track your movements overnight, including the times you get up and move around, or when you are awake tossing and turning in bed. Turn it off in the morning and after you sync it with the FitBit web site or app, you will get a complete report of how well you slept, along with how many times you woke up and what times during the night you were active. However, it will not diagnose sleep issues.
Jawbone Up
The Jawbone Up will also track your steps and your activity level and even makes it easy to log food and drink to keep track of your diet. It will even remind you if you have been idle too long and tell you to get up and move around. When it comes to sleep, the Up can track how many hours you have eventually slept, and pays attention to your activity overnight, including when you toss and turn and when you sleep deeply versus sleep lightly. It is recorded in a report the next day on the website or through the Jawbone Up iOS or Android mobile apps.
Conclusion
If you are wide-awake, unable to sleep and trying to figure out what can do about it, you can get relieved from the issue. Check out this list for helpful applications to tackle the problem in a smarter way. These sleep apps are popular as they have the potential to aid people in achieving a better night's sleep in a number of ways.