Short battery backup is one problem that constantly plagues most of the smartphone users and perhaps to worry about running out of charge constantly is the major upsetting factor to overall user experience. Time and again we do see some phones popping up which promise better battery backup, but most of the time it's the same 2000 mAh or so with a large integer standby time that seldom translates into effective on screen times for heavy users who use several apps.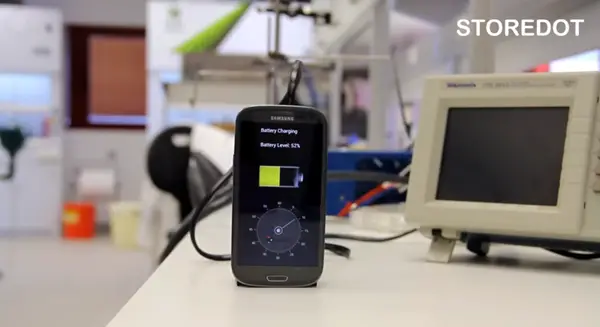 Why Bigger Batteries are not perfect solution
We have seen several smartphones which pack more milli-Ampere hour or bigger battery capacities to last longer. Popular ones include Lenovo P780, MHL 5000 and Phillips Xenium W6610. If your Smarphone doesn't pack as many mAh as you require, you can always buy a light portable battery pack to increase effective mAh count. There are battery banks with more than 12,000 mAh capacities available for nominal price, thus you can go as high as you would love to, but there is a catch.
Bigger batteries also mean they will require more time to charge. I have never been able to fully charge my ERD 11,000 mAh battery bank even with much more than over night charging, because perhaps I am impatient. An overnight charge helps me get through my day without worrying about being disconnected, but it's cumbersome enough to worry about charging one device, let alone 2. To wait for several hours to charge that extra battery capacity, makes it less appealing. I find myself using battery banks only when I have to travel or on special occasions. Rapid charging provides a better solution for users like me.
Qualcomm Quick Charge
Qualcomm was the first to introduce a rapid charging solution. It has already detailed Qualcomm Quick Charge 2.0 which debuted with Snapdragon 800 phones like LG G2. Qualcomms Quick Charge 2 technology allows you to charge up to 3000 mAh battery in 1 to 2 hours according to official sources.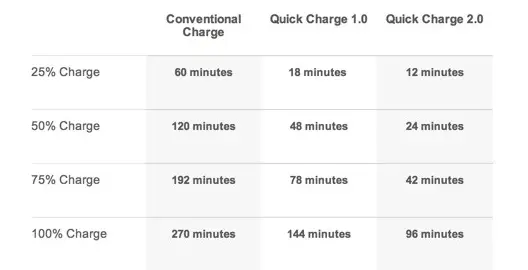 In our personal experience, LG G2 with a 3000 mAh battery takes between 2.5 to 3 hours for full charge (2 A charger) which isn't bad at all considering the massive battery and battery backup that it offers. All snapdragon 800 phones have QuickCharge 2.0 enabled, but manufacturers can choose to implement or not implement it.
The Qualcomm Quick Charge 2 according to Qualcomm, resides in both Power Management IC (PMIC) and your Charger, and can charge up to 75 percent faster than conventional charging solutions. However, when you are at work, its advisable to slow charge your device using a USB port as slow charging produces less heat and heat can reduce battery life in the long run.
OPPO VOOC Technology
OPPO introduced VOOC charging technology with OPPO Find 7 and 7a. Find 7 comes with Qualcomm Quick Charge 2.0 support as well, but VOOC is different technology which combines speed with 5 step safety solution.
The USB port comes with 7 pins instead of standard 5 pin set up and the charger pumps in with 4.5 Ampere at first. Charging speed automatically reduces after 50 percent charger or when the battery heats up to a particular temperature. By the end, the current rating is drastically reduced for stable ending. Since the chip has to increase as well as decrease current, it replaces Buck Converter (which can only step down voltage) with other Microcontrollers.
VOOC Rapid charge also features 5 level protection which raises it to aero space grade. 5 layers include several Microcontrollers to make decisions and also a fuse to ensure your phone never blows up or catches fire.

Adaptor overload protection: When the current comes to the adaptor, a MOSFET switch will turn on rapid charging only when its secure to proceed. It will further monitor the conditions for abnormalities.

Rapid charge condition judgment: A Microcontroller checks if the connected device supports rapid charging. The rapid charging is enabled only when the device connected supports it, so you don't have to worry if someone accidentally connects some other phone to OPPO charger.

Port overload protection: Even when your charger permits rapid charging, Microcontroller inside the Find 7 has to switch another MOSFET to ensure that charging start. This MCU will monitor for current overload in the USB Port. In case of overloading, the channel will be locked

Battery Overload Protection: Inside the battery, an optimized IC and MOSFET further monitor the current and voltage status of your battery.

Battery Fuse Protection: Fifth and final layer includes a fuse which acts like any other fuse. It will blow and break the circuit in case the above five protection layers fail to cut the current supply.
VOOC Rapid Charge Technology Demo
MediaTek Pump Express
Trying to stay in the game, Taiwanese Giant MediaTek also introduced Pump express and pump express plus charging technology earlier this year. It also introduced a 64 bit MT6572 chipset which supports Pump Express rapid charging, but we are yet to see it in any MediaTek device.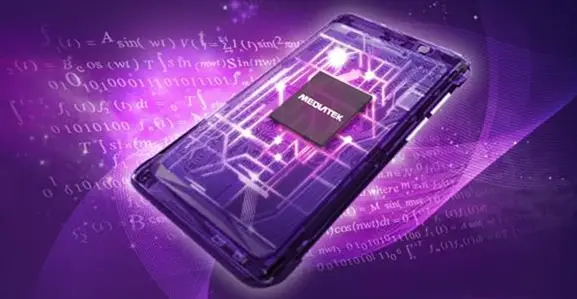 Pump Express technology uses a digital control chip in both wall charger and the Power Management IC of smartphone. MediaTek is going to source these iW1680 chips from world leading PMIC manufacturer Dialog Semiconductors. Pump Express will be designed for up to 10W chagers whereas Pump Express Plus will handle 15 W or more.
The charging time will be reduced by 50 percent which is still less than what Qualcomm Quick Charge 2 promises. Protection features include built-in output short-circuit, and output overvoltage, output over-current and over-temperature protection. So until MediaTek brings this tech out, don't expect big battery mediatek devices to charge quickly.
Is Rapid Charging the Solution we are looking for?
Now that we have discussed that every major player is rolling out rapid charging technology for the next generation smartphones, you know that we will be seeing a lot more of rapid charging devices in market in future. Next generation MediaTek chipsets will perhaps bring this to an affordable range by next year.
Most of our smartphone hardware has improved and enhanced prodigiously over last few years, but there hasn't been any big break through in battery capacity over the past few years. We did see a dot charger that can charger your phone in 30 seconds and hear about Graphite batteries under work which could last whole day with few minutes of charging, but nothing has materialized yet.
The Rapid charging technology meanwhile will bridge the gap between the excessive battery demand we have and the ultra powerful batteries of the future. It's definitely a feature which every modern phone should have. If you can charger your phone while you get ready for work or perhaps in your car while on your way to work, you will have a big load off your shoulders.
Charging Smartphone in 30S: StoreDot Flash-Battery Demo [Video]
Smartphone Fast Charging Oppo Find 7 Rapid Charging Actually Works, [Video]