Motorola was the first to introduce Moto G via online retail channels in India, and we all know how well that worked out for everyone. The decision must have been easier for Motorola as its retail network in India had already perished after its exit couple of year ago, but 1 Million Moto G later, we see several other manufacturer's retailing on online ecommerce sites – let's evaluate this trend.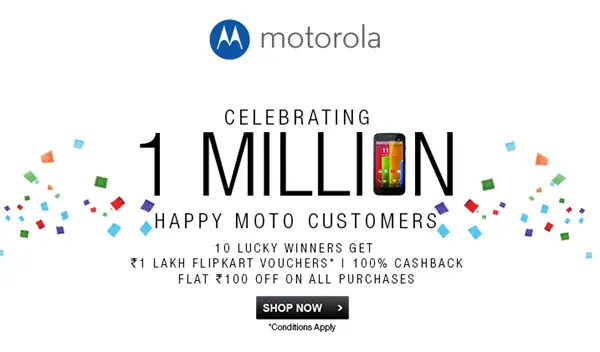 Price Sensitive Market – The Main Motivating Factor
Indian market is very price sensitive. Even today, 70 percent of the sales still come from feature phones and this in itself speaks of great potential budget smartphone market holds in India. Global brands like Motorola and Chinese behemoths like Xiaomi aim to capture large chunks of budget smartphone market by providing never seen before hardware at highly subsidized prices and this is what makes online retailing a very powerful tool.
Changing Trends
The trend which used to prevail up to recent times was that we saw phones launching at higher price tag and receiving price cuts (sometimes quite steep) after first couple of weeks. Samsung Galaxy S5 Exynos variant featured an exorbitant price tag of 51K at the launch and was retailing for 35K only after first 2 months!

Motorola Moto G on the other hand was priced much below what was expected and has been retailing for the same price for the last 6 months. Since Launch cycles are getting shorter and market is overcrowded with several OEM's and their product portfolio, this approach makes more sense.
Shorter Launch Cycles

Two months is a really long time in tech world. Nokia X arrived in India in March got a few price cuts by April, became almost meaningless in May after the launch of Moto E and now the Complete X series has been shelved by Microsoft. That's how fast things can change and you only get one chance to make a lasting first impression.
Online retailing helps keep price in check because it cuts the margin of distributors and other middle men. This is better than compromising with hardware specifications and after sales support and keeps consumers happy. A competitive launch price also gets OEM's good initial press which results in great sales momentum.
Will Global Brands embrace an Online retail Model?
Smartphone revolution is mirroring PC revolution of 90's. It has almost reached saturation in most developed markets and now, tier one manufacturers are pushing towards increasing sales in developing markets like India, where they will face intense competition from vendors like Xiaomi and OnePlus, whose core strength lies in online retail and marketing model.
Established Domestic manufacturers like Karbonn and Micromax are already retailing some products exclusively on online stores apart from new entrants like Xiaomi, OPPO and Motorola, but will Samsung, Sony and other biggies join this league? We don't think this will happen in near future. For an average consumer smartphone brand does matter above all other hardware in today's market and the brand name will help major retailers sail for now.
Android One Program
At Google I/O this year, Mountain view giant made its plans clear that it will be targeting emerging markets aggressively this year. Google will also partner with established Indian manufacturers like Micromax to launch it's Android One program for which it is also rumored to spend over 100 million dollars in promotion and subsidies. This is expected to be the next big break in budget Android segment and we are eager to see what Google has planned. This will also play a major role in determining the growth of established domestic manufacturers against tier 1 and Chinese rivals encroaching their turf.
Advantages and Disadvantages of Online Retailing
The best advantage that consumers get from ecommerce sites like flipkart is the assurance for 30 day replacement. While purchasing smartphones, there is always a chance that you will run into a defective unit and at such times, facility for efficient replacement is a big relief, which brick and mortar stores are not willing to offer.
However, not every online retailer offers this service and it's advisable that you ask for it before you invest online and save yourself an unwarranted trip to service center, should you get a faulty handset. Other obvious advantage is the reduced price.
The only major disadvantage is that you don't get to experience what the device looks like before you purchase it. If the product is retailing exclusively on online retail sites, you will have to find a friend who owns a similar device, if you can't you won't truly know how the device feels like in hand.
Conclusion
In India 17.6 million smartphones were shipped in the first quarter of 2014 which adds up to 186 percent growth in first quarter. Online buyers are also deemed to increase from 25 Million to 40 Million by 2016, and this certainly means bad news for brick and mortar stores. However, since consumers will be the winners in this intense battle, it's all good.