China based Xiaomi referred to as the Apple of China is in the tech headlines today for the launch of its flagship smartphone Mi4. Along with this, the vendor has also revealed its first ever wearable device called Mi Band carrying tempting price tag of 79 Yuan (approx. Rs 800).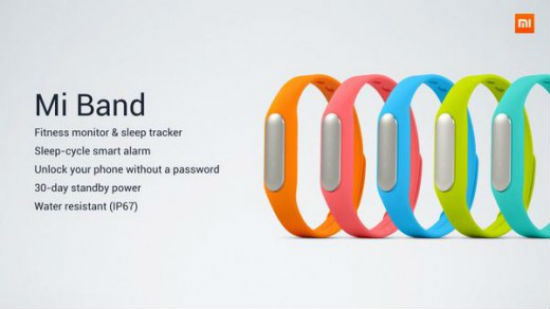 The Xiaomi Mi Band incorporates sensors that can track the health metrics of the users and also double as an alarm clock. This fitness band arrives with a set of nifty features that make it an impressive offering among the already existing wearable devices.
One such feature that could scare its competitors is the amazing 30 day battery life of the device that remains unmatchable as none of the smartwatches or fitness bands available in the market come with such a long life.
Another aspects is that the band can work as a proximity security unlock for the Xiaomi smartphone as it will unlock the handset without a password if the phone is held in the same hand in which the band is worn. However, the Xiaomi CEO Lei Jun did not reveal anything regarding the fitness aspect of the Mi Band. It was claimed that the firm is planning to incorporate a personal ID feature that allows unlocking the door, switching on smart appliances and other gadgets soon.
We have spotted the Mi Band worn by a company executive at the most recent launch of Xiaomi Mi3 in India on Monday.
It remains to be seen when the Xiaomi Mi Band will be made globally available, but it is evident that the release of this wearable device will have a massive impact on the wearable device market owing its low pricing and impressive feature set.