After teasing it for a while, Panasonic has made Panasonic Eluga U official in India for 18,990 INR. Eluga U was already available for purchase from online stores ahead of the launch event, and thus the hardware didn't exactly surprise us. We got to play with the Panasonic Eluga U at the launch event in New Delhi and the device did leave decent first impression.
Design, Build and Display
Build Quality of Panasonic Eluga U was highlighted in Panasonics promotional teasers and the phone looks and feels pretty decent. The back side is slightly heavy on calligraphy for our taste but the textured glass rear looks good and is reminiscent of Nexus 4. The back cover is not removable and you have to house your Dual SIM cards and MicroSD card on the side edge. The phone felt slightly chunky, but light and sturdy when held in hand.
The display won't leave much to complain about either. Viewing angles, colors and brightness are above average and HD resolution won't leave you wanting for more. The display IPS LCD OGS display is also protected by Gorilla Glass 3 which makes it extremely resistant to day to day scratches. Panasonic will also bundle a display protector inside the box
Processor and RAM
The processor humming inside is the familiar Snapdragon 400 quad core clocked at 1.2 GHz. The cortex A7 based SoC with Adreno 305 GPU is the same one which we saw on Moto G and Galaxy Grand 2, but this time RAM capacity has been increased to 2 GB, and this will enhance its chances of working well in the long run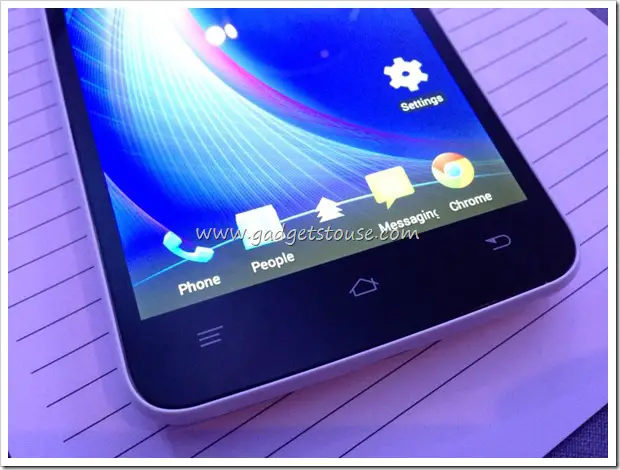 Out of 2 GB RAM, around 1.4 GB is free on first boot which is again pretty good. UI transitions were smooth in our initial testing and we are optimistic that this shall hold true in the long run as well.
Camera and Internal Storage
Primary camera has a 13 MP unit and although we didn't test it extensively, low light performance seemed quite decent. It looks like an above average 13 MP shooter but we will have to test it more extensively to know how it holds in different scenarios. Camera UI is again quite simple and you can record 1080p videos as well
Internal storage is 16 GB out of which 13 GB is available at users end. Since MicroSD card support is also present up to 32 GB, however you cannot transfer apps to SD card.
User Interface and Battery
The user interface doesn't deviate far from Stock android but the icons and app drawers have been customized. Panasonic has provided with Kwik unlock which allows you to unlock your device by tapping the lock screen twice, other features include Pop-i-player which you use over other apps and Fit Home UI for better one hand usage if you have small hands.
Battery capacity is 2500 mAh which sounds right. We don't know how long that will last but considering the display and chipset it shouldn't be disappointing.
Panasonic Eluga U Photo Gallery
Conclusion
Panasonic is definitely following a nice approach with its Eluga range but only if the price were slightly lower. We have been spoilt for choice with several manufacturers offering more than expected features at less than expected price and thus the launch price seems slightly expensive. If the stock crisis for Mi3 persist and perhaps after initial price cuts Panasonic Eluga U will be a more attractive option.