GOQii Band which has been designed to coach you into good habits is now available for purchase in India starting from 6,999 INR. GoQii smartband is more of a subscription where buyers will get to interact and be motivated by real life coaches and habit designer monitoring their data.
This approach does seem effective and will perhaps help people struggling to devote due diligence to their health and fitness. It remains to be seen if GoQii manages to do what it claims in an effective manner to be an effective low cost substitute for personal trainer.
By pairing this smartband using an Android app, You can monitor how many steps you take and be cognizant of distance traveled, earn Karma points to stay motivated, keep track of Calories burnt, Active time and sleep duration, of course- see Time as well.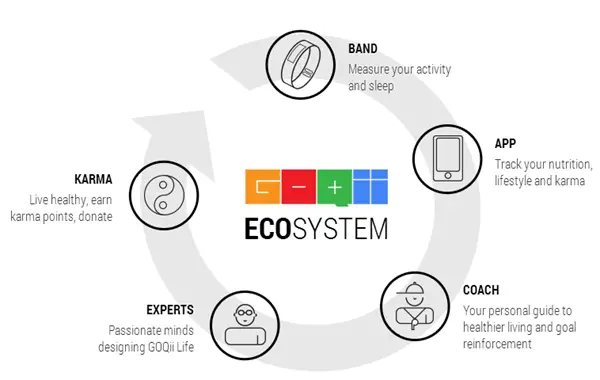 GOQii list of habit designers includes a behavior change designer, Dr. Sriram Nene as health consultanat, Nutritionist Luke Countinho and Project head Vishal Gondal himself.
The project is still in nascent stages and things will get better with time. You can buy GOQii Fitness tracker and 6 months subscription for 6,999 + taxes or you could go for an entire year for 11,999 INR + taxes. After your subscription period, you can keep the fitness band irrespective of whether you renew your subscription. For now the program is only for Indian residents. You can buy this SmartBand from GOQii Official website