Spice Smart Pulse M9010 is the most affordable smartwatch you can buy and if you are planning to buy one, set your expectations accordingly. Spice is marketing it as a dual SIM phone on your wrist, but it's a dual SIM feature phone with limited functionality. Let's talk about the first attempt at a smartwatch from a domestic manufacturer.
Spice Smart Pulse M-9010 Quick Specs
Display Size: 4 cm, 1.6 Inch, 320 x 240 resolution, 250 PPI
Software Version: Java OS
Camera: VGA
Storage: 256 KB on board, MicroSD support up to 8 GB
Battery:  420 mAh
Connectivity:  2G, FM Radio, Bluetooth
Dual SIM (Normal + Micro)
Spice Smart Pulse Smart Watch, Phone Hands on, Quick Review, Price, Unboxing, Features and Overview[Video]
Design, Display and Build
The first thing you will notice about the watch is that it's flashy plastic. It tries to hide that with a metallic texture and industrial design screws but not successfully so. If looks matter, you can easily get a better looking conventional watch with real metal for the same price, but if you are willing to compromise that for smartwatch functionality, the outward form will perhaps not be a deal breaker at this price. Spice is also offering 2 extra straps in the box for some customization, but black suits the watch best.
The 1.6 inch 320 x 420 pixel display is again sharp and bright but colors appear washed out when you observe it in full lit room. Outdoor visibility, which is a very important trait in a watch, is disappointing. Once outdoors, you would twist and struggle to just get hold of time.
Camera and Storage
A VGA camera doesn't have much worth on a phone or on a smartwatch. It's just there and adds to the list of features which you will try a few times when the device is new. To take shots is also very tricky due to small form factor and minute capture button, specially in outdoor enviornment. We weren't bother by it in day to day use, and continued to dig in our pockets for smartphone photography. The VGA camera on Smart Pulse is accompanied by LED Flash, which you might find more useful than camera itself.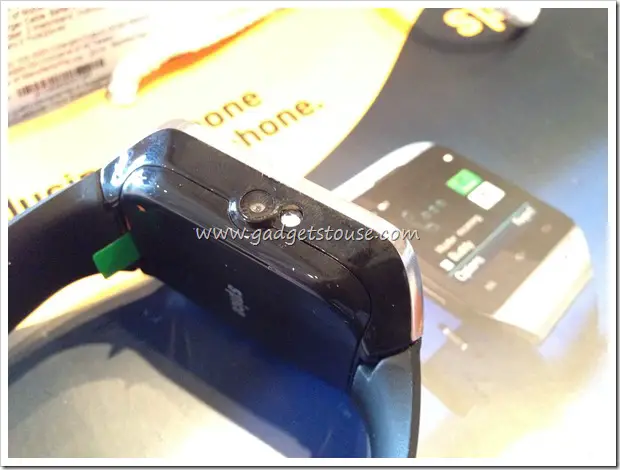 On the watch itself you will get only 256 KB storage. You get to store another 8 GB data on MicroSD storage and you can also store multimedia content and play it on your watch. 8 GB seems like enough storage on the watch.
User Interface and Battery
Java based Spice Smart Pulse is reminiscent of yesteryear feature phones based on same platform. You can navigate the watch using three capacitive keys below the display and most of the functionality is predefined. You can't add apps.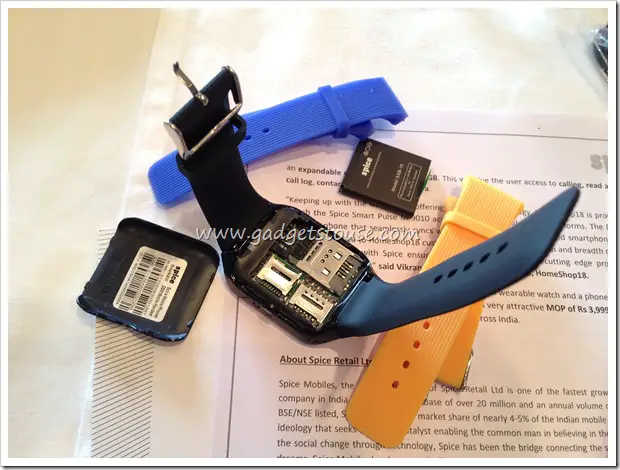 The keyboard is minute and it can get frustrating to send SMS via SIM card, but you have the option. The watch will mirror your phone notifications via Bluetooth but you can't act on them. Remote capture allows you to shoot pictures from your smartphone camera. Other features include a file manager, one game, etc. The limited functionality is further made bland by the tiny controls all throughout the interface.
Battery backup is good if you don't plugin SIM cards. With very basic usage we could even stretch it to more than 2 days on single charge, but with active usage and SIM cards inside the watch struggled to last one day.
Sound and Video Playback
The speaker isn't very loud and headphones which come bundled with the box are poor in quality. The device can play videos but it will mostly support only camera recorded videos.
Spice Smart Pulse M9010 Photo Gallery
Conclusion and Price
Priced at 3,999 INR Spice Smart Pulse is not something we see ourselves using in day to day life. The limited functionality which feels highly inaccessible on minute display – encased in plastic frame slapped on your wrist doesn't sound enticing. In practical life, attending phone calls on your wrist doesn't make any sense either. You can still buy it if you wish to have a mediocre and miniature feature phone on your wrist all day.