Today, Amazon has introduced the all new Kindle that is 20 percent faster processor, touch screen interface and twice the storage capacity. This latest generation Kindle is priced at Rs 5,999 and is listed for pre-order via Amazon India with a shipping date of October 9.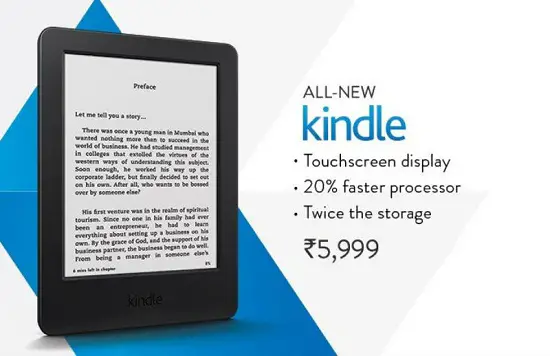 The new Kindle is compact, light and portable and it is great for a wonderful e-reading experience. The device has a great touch screen display this is free from glare even under direct sunlight and provides four weeks of battery life on a single charge.
The touch screen display in the Kindle measures 6 inches and it is grey scale panel with a pixel density of 167 pixels per inch. The device packs 4 GB of internal storage option with free cloud storage support.
The Kindle FreeTime feature provides parents an engaging way to encourage their kids to spend more time reading. Also, they can select books for their kids to read and reward them with achievement badges on achieving reading milestones. The Vocabulary Builder lists the words that are looked up in the dictionary automatically. Users can simply swipe through the vocabulary word and use flashcards to quiz themselves.
Whispersync feature saves and synchronizes the last page read, annotations, bookmarks and others across all the devices. Smart Lookup integrates a complete dictionary definition with references from Wikepedia and X-Ray. Users can automatically backup the Kindle books in the cloud without any worry of losing the books or re-downloading them wirelessly for free. The Kindle Page Flip can help in scan by chapter, skim page by page and jump anywhere in the book and tell how much time is left for completing a chapter based on the user's reading speed.
The Kindle e-reader comes with instant access to the Kindle Store that comprises of a massive collection of books, Kindle exclusives and low priced books costing Rs 99 or less.