Jolla Phone, which runs Linux based Sailfish OS, based on Nokia Meego software has been launched in India. In a world dominated by Android and iOS, its tough for new platforms to prosper. Even Windows Phone is struggling as a distant third. Will Sailfish OS justify its existent at 16,499 INR? We have had the device for a days now and here are our initial impressions of the same.
Jolla Phone Quick Specs
Display Size: 4.5 Inch qHD IPS LCD, 960 x 540 resolution, 245 PPI, Corning Gorilla Glass 2 protection
Processor: 1.4 GHz dual Core (Krait 300) Snapdragon 4000 processor with Adreno 305 GPU
RAM: 1 GB
Software Version: Sailfish OS
Camera: 8 MP camera, Capable of FWVGA, 1080P video recording
Secondary Camera: 2 MP
Internal Storage:  16 GB
External Storage: MicroSD support up to 64 GB
Battery: 2100 mAh
Connectivity:  LTE, HSPA+, Wi-Fi, Bluetooth 4.0 with A2DP, aGPS, GLONASS,  Micro USB 2.0
Jolla Phone Hands on Review, Camera, Features, Gestures, User Interface Overview [Video]
Design, Build and Display
The Jolla phone has a refreshingly unique design. It's not exactly very attractive, but feels refreshingly different and reminds us of yesteryear Nokia devices. The back cover is removable and replaceable. Corners are sharp, but the phone is easily manageable with a 4.5 inch display form factor. There are no navigation buttons on the device. All navigation is carried out using gestures. The back and front look live two parts of different phones merged together and it's meant to be this way. This design choice doesn't look shabby. Speaker grill is present at the bottom and the loud speaker pumps clear audio.
The 4.5 Inch IPS LCD display isn't exactly dazzling but does the job nicely. There is no option for auto brightness but the max brightness seems good enough. The qHD 960 x 540 resolution looks ok and colors reproduction seems good. For this price, you can easily get a better display phone.
Processor and RAM
Jolla smartphone employs a dual core 1.4 GHz Snapdragon 400 with Krait 300 cores (not cortex A7). Coupled with 1 GB RAM and Adrenoo 305 GPU, this is enough for Sailfish OS to run smoothly. We didn't find any UI lag or stutter while opening apps. We will further test how efficiently the phone can run demanding Android games (yes, you can load Android apps on Jolla Phone)
Camera and Internal Storage
You can launch camera app from a shortcut in swipe down menu. The 8 MP rear camera takes good day light shots but low light shots are very usable but not great. Analogus Android Phones for a similar price will definitely offer a better camera. The camera app is very simple and easy to use. There is no option for panorama or HDR.
Internal storage is 16 GB out of which about 13 GB is available at user end. There is also option for MicroSD expansion up to 64 GB. The storage won't be an issue for most users.
Jolla Phone Camera Review, Features, Low Light Performance Overview [Video]
User Interface and Battery
The Sailfish OS has a color full interface well handled by the chipset, but there is no denying that software needs work. Gesture navigation will take some time getting used to. The guide is present as an app which you can consult till you get accustomed to it. Watching videos, multimedia and web browsing aren't as smooth, but the phone gets the job done.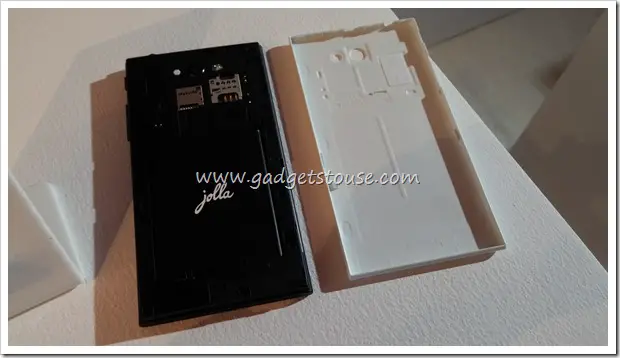 There are several things we like about the OS. You can double tap to wake up the phone and apps that you minimize go to a separate screen and remain active. The OS handles multitasking more efficiently than Android or iOS
The battery capacity is 2100 mAh and in our initial time with the device, it seems you can get one day usage. We will comment more on the battery backup after we have spend some more time with the device.
Jolla Phone Photo Gallery
Conclusion
The Jolla Phone does feel incomplete at times, but it is a refreshing approach. In a world dominated with Android and iOS, the Sailfish OS doesn't seem out of place. It makes a compelling case for its existence, though there is still a lot of work to be done. Should you buy it? Perhaps yes if you are striving for something different. You can buy Jolla Phone from Snapdeal for 16,499 INR