BlackBerry has today tried to reinvent itself with the launch of BlackBerry Passport and the end result is surely fascinating. The new BlackBerry phone will be a treat for ardent BlackBerry fans and will also make a compelling case for business users willing to switch platform. Let's take a quick look at the hardware.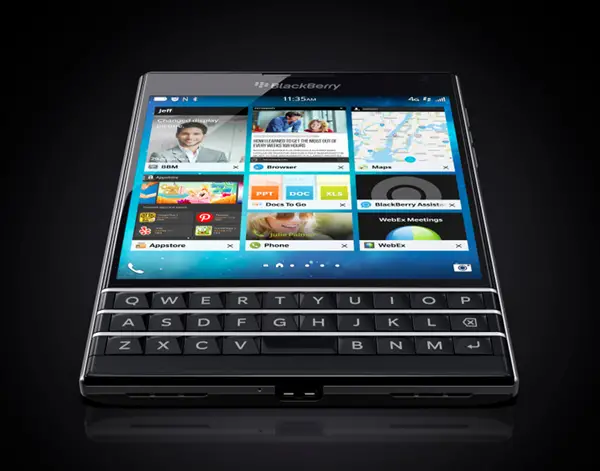 Camera and Internal Storage
BlackBerry phones have been slightly behind the curve in imaging department when compared to Android high end flagships with equivalent price tags, but BlackBerry is striving to change that with a 13 MP AF rear shooter capable of full HD 1080p video recording. The camera module incorporates Optical Image Stabilization technology to offset vibrations while clicking images.
The front 2 MP shooter will also suffice for 720p HD video chat. Internal storage is ample 32 GB with option of further expanding it by another 64 GB using MicroSD card support. This should suffice for most users out there.
Processor and Battery
The processor used is Snapdragon 800 quad core clocked at 2.2 GHz. If you are a spec junky, you might consider it a step below the Snapdragon 801, but there is no reason to doubt that the powerful Snapdragon 800 SoC inside is more than capable of deliver a smooth performance with BB10.3 OS. The chipset is coupled with 3 GB RAM which shall be enough for smooth multitasking.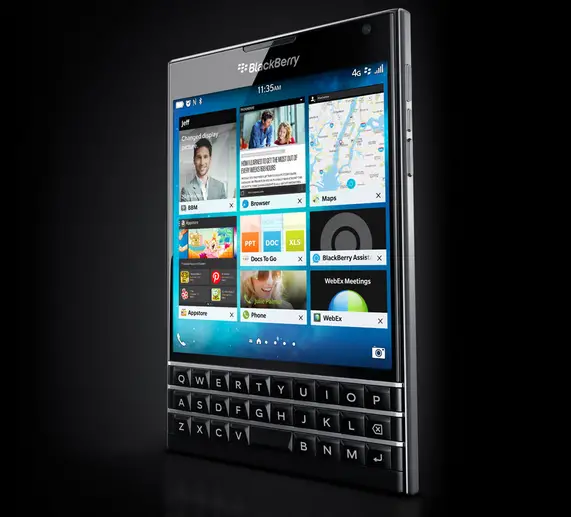 Battery capacity is 3450 mAh. BlackBerry claims that the battery backup hasn't been compromised in any possible way and users can get 30 hours of mixed usage time from BlackBerry Passport, which sounds good. Since the phone is targeting corporate users, this is an important parameter where it can't afford to falter.
Display and Other Features
The Display is 4.5 Inches in size and it's a square display covering most of the front side. The resolution is 1440 x 1440 pixels which amounts to extremely sharp panel with 453 pixels per inches. BlackBerry went at length to demonstrate the advantage of such wide display.
WORK WIDE stories with BlackBerry Passport[Video]
You can squeeze in more data compared to iPhone 6 or Galaxy S5 (as BlackBerry demonstrated at the event) and also the display is well suited for viewing medical images and other productivity aspects. This sounds logical.
The software is BB10.3 which supports Android Apps. You will get Amazon App Store pre installed on the device along with some other key Android apps. BlackBerry has also introduced BlackBerry Assistant to compete with the likes of Google Now, Cortana and Siri.
The BlackBerry Blend allows you to work across platform in real time. You can securely access your BB10 device from any platform. you can simply drag and drop files from your laptop, tablets, iPad, etc with ease.
The first of its kind capacitive keyboard is another highlight of the device. You can swipe up to choose words from suggestions or swipe left to delete. BlackBerry has also improved on cursor management.
The Innovative Touch-Enabled Keyboard on the New BlackBerry Passport [Video]
Comparison
Based on its price tag, the BlackBerry Passport will compete with Android Flagships like LG G3, HTC One M8, Xperia Z3 and Samsung Galaxy S5 for market share, but it's a different beast altogether targeting a very different audience.
Key Specs
| | |
| --- | --- |
| Model | BlackBerry Passport |
| Display | 4.5 Inch , 1440 x 1440, 453 ppi |
| Processor | 2.2 GHz Quad Core Snapdragon 800 |
| RAM | 3 GB |
| Internal Storage | 32 GB, 64 GB MicroSD support |
| OS | BlackBerry OS 10.3 |
| Camera | 13 MP/ 2 MP |
| Battery | 3450 mAh |
| Price | $599 (Approx. 36,500 INR) |
Conclusion
The BlackBerry Passport sounds like a well crafted and refreshingly unique device. The phone combines all BlackBerry experience and strengths and we are excited to spend more time with it on the 29th September, when BlackBerry will introduce it in India. The not-so-pocket-friendly smartphone however isn't meant for the masses as is evident from the price tag and the form factor, but will definitely entice BlackBerry loyalists and there is no dearth of those in India.
Official BlackBerry Passport Unboxing Video