MHL has come up with the MHL Alternate Mode (Alt Mode) for the USB Type-C specification. With this Alt Mode, a USB Type-C connector and cable can be transformed support MHL 3 specification that includes 4K video, multi-channel surround sound audio and HDCP 2.2 and is backward compatible with the current versions of MHL specification.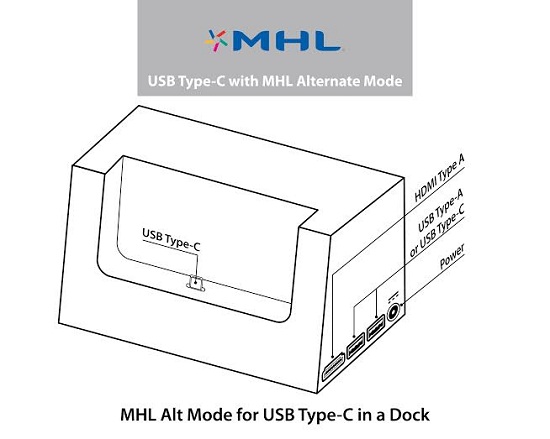 The MHL Consortium is bringing up advancements to the MHL specification in order to support additional capabilities and connectors including such as USB Type-C even before the industry demands are created.
Part of MHL's success comes from the support provided by its popular connectors that are already present on mobile devices, displays and proprietary connectors. This flexibility has helped MHL to grow to over 650 million devices within a short time span of few years.
Those mobile devices that are designed with a USB Type-C receptacle and built to support the MHL Alt Mode can connect to a large ecosystem of MHL TVs, monitors, AVRs, Blu-ray Disc players, projectors, set-top boxes and automotive products with the help of the USB Type-C to HDMI Type A MHL cables. Those devices with USB Type-C MHL Alt Mode can connect to HDMI legacy displays via adapters that support MHL-to-HDMI protocol conversion.
Regardint this, Jeff Ravencraft, USB-IF President and COO said, "The USB Type-C cable and connector is designed to be a long-lasting, robust solution that is ideal for all platforms and devices.  The USB-IF will be working in conjunction with MHL, LLC to establish complementary certification and compliance programs to properly support USB Type-C hosts and devices that incorporate MHL Alt Mode. The USB-IF is also in the process of developing joint port identification guidelines. We're coordinating with MHL, LLC to ensure consumers can recognize when MHL Alt Mode is supported on USB Type-C devices."
Also, Rob Tobias, president, MHL, LLC, said, "MHL Alt Mode enables a USB Type-C connector to support the MHL 3 specification, which includes 4K video, multi-channel surround sound audio and HDCP 2.2. This benefits consumers and systems designers because a single connector reduces costs and increases functionality."