Viber today announced a new feature for its messenger app, called 'Public Chat'. This feature allows Viber users to follow celebrities and related public discussions for a more personal touch.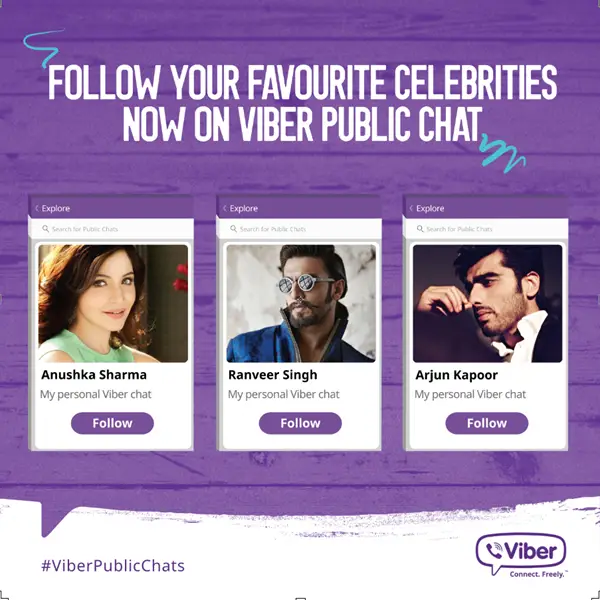 Any user can follow any number of chats and the most popular one will show up on the home screen. You can also search and find a group of your choise. Whenever a celebrity signs up for Public chat, he/she can broadcast their chat, share media start voice or text conversations and allow users to join in on these conversations.
Some popular Indian celebrities who have signed up for public chat include Anushka Sharma, Ranveer Singh, Arjun Kapoor, Sonu Nigam, Ayushmann Khurrana, Shaan and many more. The list also includes illustrious sports stars like like Sachin Tendulkar, Virat Kohli, Rohit Sharma, Shikhar Dhawan, Saina Nehwal and others.

Speaking on the occasion, Anubhav Nayyar, Country Head-India, Viber said, "The release of Public Chats on Viber allows people to interact in a new way, listening to live discussions and staying up-to-date with exclusive content from the people and interests that matter to them most. We are launching this with a great line-up of celebrities, personalities, brands, influencers all over India."
Speaking at the launch Mark Hardy, Chief Marketing Officer, Viber said "I'm delighted to be here in India to celebrate the launch of Public Chats. We are thrilled with the response we've had so far – after just a few days, some of the most popular chats already have hundreds of thousands of followers, showing that users are intrigued by the fly-on-the-wall experience Public Chats offers. There's a great line up of talent from India, and we're looking forwarding to adding more Public Chats over the coming weeks and months."
Public Chats are indeed an interesting feature which can be addictive at times. This feature is unique to Viber and will allow fans to connect with famous personalities in a new and interesting way. We expect this new feature to add substantial number of new users to the platform.
Download Viber
Viber Public Chats [Video]