Spice today launched Spice Stellar 520n, with standard budget quad core hardware and a 5 inch HD display. The handset comes in several color options for customization. We received our review unit and got to spend some time with the device. Read on to know our initial impressions.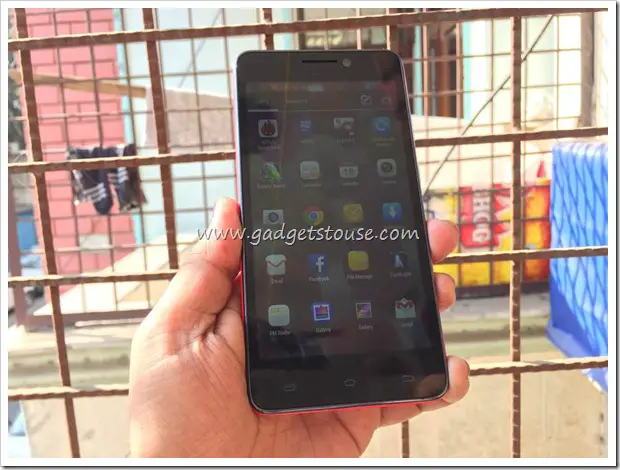 Spice Stellar Mi 520n Quick Specs
Display Size: 5 Inch HD 1280 X 720 IPS LCD, 296 PPI
Processor: 1.3 GHz mt6582 quad core processor with Cortex A7 based Cores and Mali 400 GPU
RAM: 1 GB
Software Version: Android 4.4.2 KitKat
Camera: 8 MP camera, LED flash
Secondary Camera: 2 MP
Internal Storage:  8 GB (2.5 GB free App storage)
External Storage: MicroSD support up to 32 GB
Battery: 2000 mAh
Connectivity:  HSPA+, Wi-Fi 802.11 b/g/n, Bluetooth 4.0 with A2DP, aGPS, Micro USB
Spice Stellar 520n Unboxing, Review, Camera, Gaming, Features, Benchmarks, Price and Overview[Video]
Design, Build and Display
The design is quite simple and customary. The back cover is glossy and Spice has bundled 2 extra covers inside the box apart from the flipcover. Both the front and backside accumulate fingerprints easily and need careful handling. Both the MicroUSB port and headphone jack are present on the top. Power key and volume rocker are present on the right edge. Loud speaker is present on the rear side.
The display is 5 inches in size with 720p HD resolution which is good enough in this price range. The display is sharp, with decent brightness and good viewing angles. Three navigation keys below the display are not backlit. Auto brightness is also supported.
Spice Stellar 520n is not a premium build device and perhaps we will rank it one step below Android One, but extra rear casings and flipcover is a bonus. At these prices, we have no complains about the build quality.
Processor and RAM
The processor is the same old MT6582 clocked at 1.3 GHz, which is a pretty decent performer for day to day usage. The chipset is backed by 1 GB RAM, more than 500 MB of which is free on first boot. In our initial time with the device, everything is running smoothly without much lag.
We did experience occasional stutters and we will test it further to know how well the phone holds in the long run. We did not encounter any lag while playing full HD videos and while running graphic intensive games.
Camera and Internal Storage
The rear 8 MP camera does a good job in proper lighting. However, in low light the camera struggles with details and images are slightly noisy. The rear camera supports tab to focus and auto focus. The shutter speed is not very fast for the rear shooter. Overall performance of rear camera is average.
The front camera on the other hand works well and should suffice for good quality video chats. The rear camera supports tab to focus and auto focus.
Internal storage is 8 GB and there is option to check SD card as default storage for app data and Media. The storage is split in two parts and you will get only around 2.5 GB for applications. Since all apps can't be transferred to SD card, this will be a limitation for users who wish to keep several apps on their devices.
User Interface and battery
The user interface is Android 4.4.2 KitKat which is mostly stock, but with some customizations to modify its look and feel. The interface is light but not as fluid. we did notice some lag while switching apps and orientation. The stock dialer has option for cellular video calling. Swiftkey keyboard is preinstalled on the device.
Battery capacity is 2000 mAh, and spice clains 4 hours of talk time and 200 hours of standby time. This doesn't sound impressive. We will give our verdict after we have spent some more time with the device.
Spice Stellar Mi 520n Photo Gallery
Conclusion
Spice Stellar Mi 520n is a conventional budget quad core device which offers a sharp 5 Inch display to enjoy above average Android experience. To distinguish itself from the others, Stellar Mi 520n overs several back covers and flip cover, which means you can flaunt a different color smartphone each day. The smartphone seems to be a good performer in day to day usage. Its noting fancy, but its powerful enough to get the job done. You can buy Spice Stellar Mi 520n from Amazon India for 5,999 INR.