The Chinese firm Xiaomi is anticipated to launch two devices at the upcoming CES 2015 tech show slated to debut on January 6. Well, the devices are the Mi 5 or Mi 4S flagship smartphone and the MiPad 2 tablet.
In the meantime, the flagship Xiaomi smartphone got leaked revealing the device's alleged specifications alongside an image. From the image, the Mi 5 or Mi 4S is likely to sport a large footprint and make use of a sapphire glass display. Even in the earlier leaks the handset was tipped to boast sapphire glass and it claimed that the firm had ordered for 50,000 sapphire covers for its upcoming flagship smartphone.
Notably, sapphire glass resists scratch and it is said to be unbreakable. But, there are contradictory reports that claim that the sapphire glass can break easier than glass. Analyst Tim Bajarin said that the sapphire glass is thicker and bulkier than glass that will be a hindrance for manufactures in developing smartphones that are thinner and lighter. He prefers that glass can be created thinner than paper and it can be strengthened chemically as well.
He also added that sapphire glass affects the battery life as it will require more energy to display the same brightness as a glass screen would do. The most notable problem is that sapphire glass is more likely to break when it is dropped. Of course, sapphire is good at keeping scratches away, but it is not when it comes to cracks that will lead to shattering of screen.
When it comes to the rumored specifications, the alleged Mi 5 or Mi 4S smartphone is said to arrive with a 5.7 inch Quad HD 1440p display and employ a 64 bit Snapdragon 810 processor teamed up with 3 GB of RAM. It is also likely to boast of a 20.7 MP primary camera at the back.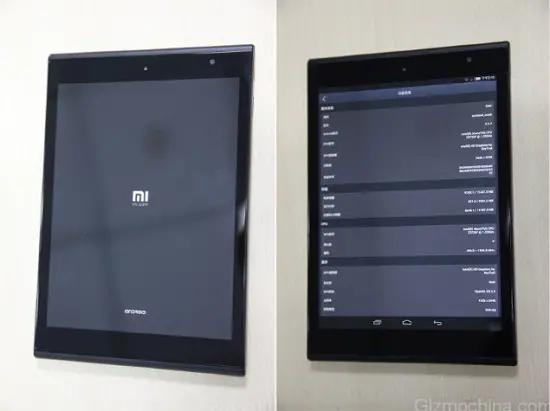 Talking of the Xiaomi MiPad tablet dubbed MiPad 2, the device was leaked via Weibo revealing that it boasts of an overall design that is too different from existing MiPad. Reports suggest that Xiaomi is in plans to equip the MiPad 2 with an Intel chipset clocked at 1.8 GHz. Other aspects as revealed by the reports include a 7.9 inch display with a 2048×1536 pixel resolution, 2 GB of RAM and 16 GB of native storage capacity and Android 4.4.4 KitKat topped with MIUI.
Source (1) | Via (1), Source (2) | Via (2)