The Moto X might be one of the best phones of 2014 and if not the best, it might just be he most innovative phone that we have seen in 2014. The phone, which is priced slightly above the mid-range, comes with a sensor-rich experience. But, sensors are not all the Moto X is about. The Moto X comes with a 13-megapixel rear cam, armed with a CMOS sensor surrounded by dual flash placed side-by-side on the lens. The increase in megapixels also means an increase in picture quality. The new Moto X is definitely an improvement over the original, but does it really shine? Let's find out.
Quick Camera Specs
Rear Camera: 13 MP, 4128 х 3096pixels, 1/3.06" sensor size, With LED flash, Auto Focus,
Video Recording: [email protected]
Front Camera: 2 MP, [email protected]
Camera Modes: HDR, Control focus and exposure, Quick Capture, Widescreen, Panorama, Standard
Optical Image Stabilization: No
Dedicated Camera Key: No
Shutter Speed: Medium
AF Speed/ sensitivity: Medium
Camera Hardware
The Moto X's  13-megapixel CMOS camera is something that you should look at, more in the context of the old Moto X. While the old Moto X used a 10 MP OV10820  1/2.6" sensor, th e new one uses a 1/3.6" Sony IMX135 sensor having a pixel size of 1.1 micrometers. This year's Moto X has an f/2.25 aperture with a focal length of 29.4.
The new sensor has better light sensitivity and even among mid-range phones, its light capture stands at above average. Color reproduction is good, but the lack of Optical Image Stabilization plagues the camera. It is then, the dual-LED flash on the sides of the ring shaped diffusing glass that is the talking point of his camera. It gives you an even shot which is not washed out like generally happens with smartphone cameras. The max. ISO is set at 1000, while regular shots are taken at 50.
There is no dedicated camera key onboard.
Camera Software
The Moto X camera app is as clean and simple as it can get. It isn't a highly customizable app. When you switch on the camera, you won't see the controls until slide your finger from left to right, which shows a wheel of controls.
In the standard mode, you can click 9.7 MP shots in 16:9 resolution. You can amp it up to 13 MP shots in 4:3 resolution in the widescreen mode. The default settings will provide you an auto HDR, in which the camera judges for itself whether HDR is needed or not. The ISO is determined by the camera automatically. The camera app has been upgraded to a material design in Android  Lollipop, but we are yet receive the update.
Camera Modes
You won't get to know the camera modes, unless you look for them in the control wheel. The camera app on the new Moto X is as simple as it gets.
Default settings/ Standard Mode
This is not a mode, in fact, it is the automatic settings (Just like Auto mode on many phones) in which the camera judges for itself, whether HDR is needed and clicks 9.7 MP shots in 16:9 resolution.
Control Focus and exposure
This could also be called the autofocus mode. The new Moto X takes time to focus, but once it does, the results are brilliant. In fact, the Control and Focus mode is the best mode for clicking shots on the new Moto X.
Quick Capture
This mode lets you capture images by a twist of a hand. You can quickly capture images using a single action in this mode.
Widescreen
This mode lets you click 13-megapixel shots in 4:3 resolution.
Panorama
Panorama mode is easy to use on this phone.
Rear Camera Performance
The 13-megapixel rear cam is armed with a well performing sensor, though it is plagued by the lack of Autofocus. It produces vibrant shots though.
Indoor Shots in Artificial Light
Indoor shots in artificial light are a little grainy, even though the color reproduction is pretty good sometimes.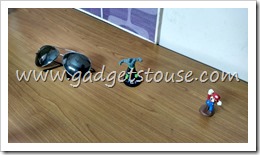 Indoor Shots in Daylight
Indoor shots in daylight, too performed below expectations.
Outdoor Shots in Daylight
This is where the new Moto X excels. Outdoor shots are amazingly detailed, vibrant and have the least noise.
Ultimately, the lack of OIS and indoor light capture plague the new Moto X. The outdoor shots are good, but they cannot make up for grainy indoor shots, especially at this price. Motorola is doing well on all fronts, but still needs to buck up when it comes its camera technology. Ideal settings for the camera would be switching on the HDR, Control and Focus mode and clicking shots in widescreen (4:3) mode.
Video Recording
Video samples coming soon
The New Moto X can shoot 4K videos at 30fps. Although the video quality is good, the color temperature is set to warm and there is nothing much you can do about it.  The indoor video sample suffered just like the indoor shots did. It could focus, but it could correct artificial light correctly. The outdoor video performed well, but it could not focus correctly on nearby objects due to the lack of autofocus in video mode. You can shoot HD videos at 1080p, SloMo videos at 1080p and and Ultra HD (4K) videos at 2160p.
Conclusion
Despite the price it commands, the Moto X camera is once again, a let down. The colors are vibrant, but indoor shots are grainy. The color recognition does good, but the lack of OIS and slow autofocus doesn't bode well for the camera. Ultimately, the Moto X camera is disappointing.