The Samsung Galaxy Alpha is a sibling of the flagship Samsung Galaxy S5. We might have had our reservations about the S5, but we were definitely impressed with what it offers in terms of camera specs. The Samsung Galaxy Alpha comes with a 12 MP CMOS sensor. While the camera has been downgraded in terms of megapixels, the camera sensor has been upgraded with phase-detection Autofocus. Does the Samsung Galaxy Alpha pick up where the Samsung Galaxy S5 left off? Let's take a look at how Samsung Galaxy Alpha performs and competes with others in its price range.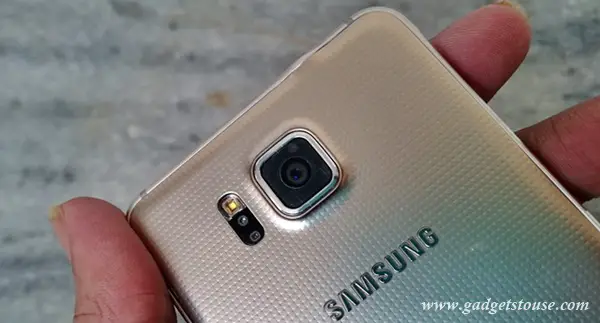 Quick Camera Specs
Rear Camera: 12 MP, 4608 х 2592pixels, 4.9mm sensor size, With LED flash, Auto Focus,
Video Recording: [email protected], [email protected], [email protected]
Front Camera: 2.1 MP, [email protected]
Camera Modes: Auto, Beauty face, Shot & more, Panorama, Virtual Tour, Dual Camera and other downloadable modes
Optical Image Stabilization: Yes
Dedicated Camera Key: No
Shutter Speed: Fast
AF Speed/ sensitivity: Fast
Camera Hardware
Essentially, the 12 MP Exmor ISOCELL CMOS camera is the star of the show with a large size of 4.8mm and pixel size of 1.12 micrometers. The Samsung Galaxy Alpha doesn't shy away when it comes to the size of the camera sensor – the 4.9mm camera sensor. To put that in perspective, benchmark Lumia 1020 lead the race with a 1/1.5″ sensor and the iPhone 6 Plus features a 1/3 Inch camera sensor.
The sensor has better light sensitivity than most phones in its price range and the ISO rating for this one is boosted up to 800 while regular shots are taken at 64. The camera performs well in low-light conditions. Samsung's ISOCELL sensor is definitely impressive this time around. There is no dedicated camera key onboard.
Camera Software
Samsung Galaxy Alpha features less than usual modes. There is no manual mode, so you have to choose from Auto and other modes i.e. You can't customize the shots, but we hardly felt the need to do so.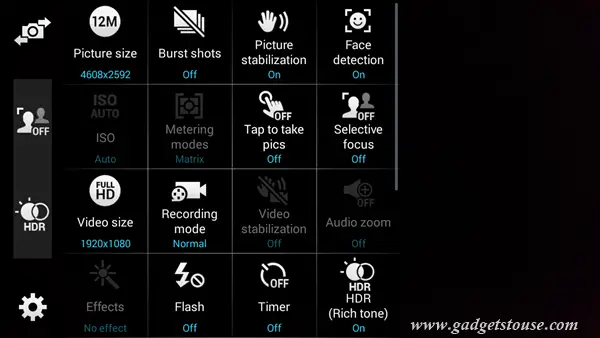 Auto Mode, chooses what's right for you and knows all the right settings. However, all images captured will have 12 MP resolution. The general camera color temperature is warm, although you can change it camera settings by altering the white balance.
.
The ISO is determined by the camera itself. HDR setting is available in manual mode, but only if you select 8 MP resolution. HDR and selective defocus can be turned on/off in the auto mode.
Camera Modes
Samsung hasn't concentrated on providing you with a great  number of modes – it has just put in the usual ones.
Auto Mode
Auto mode will be the most used mode on this phone and therefore it needed to be good. And well, it is.
Beauty Face Mode
The Beuty Face mode is a tool that enhances your images, but you will also risk enhancing not just your image, but even  the surroundings. Moreover, if you increase the effect to a higher level, you will see images becoming a bit cartoonish.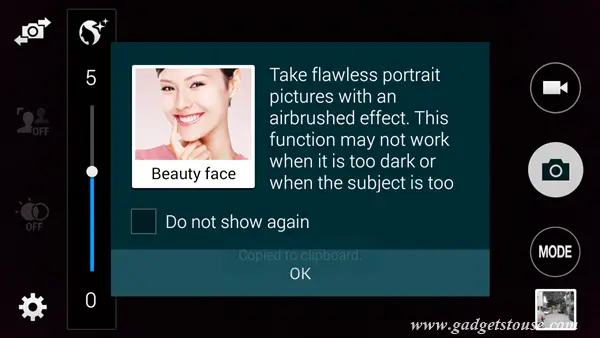 Shot & more
Shot & more is just like it sounds, it is similar to burst shot modes on other phones. It indicates the best shot and also lets you choose from a variety of shots. You can also apply different effects to the chosen shot.
Panorama
Panorama mode is easy to use and can click good landscape shots.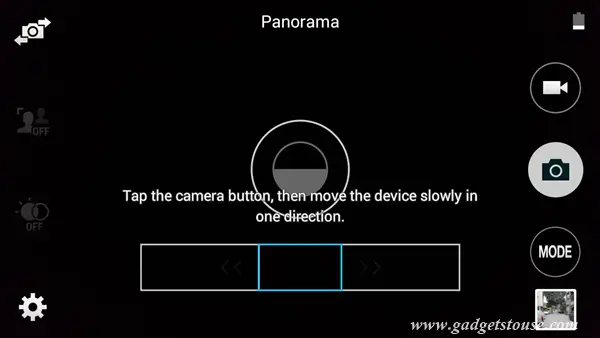 Virtual tour shot
The Virtual tour shot mode lets you create 3D panoramas, which is pretty cool.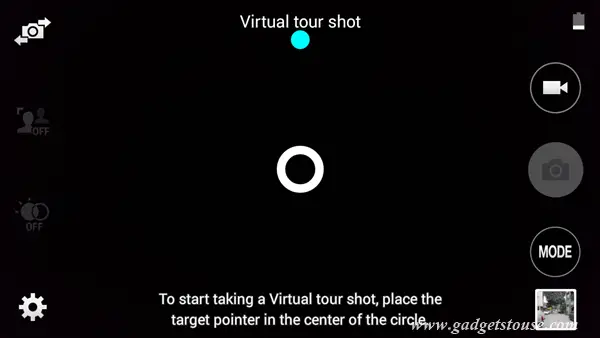 Dual Camera
Dual Camera mode lets you use the front cam and rear cam at once, it also lets you choose from a variety of templates for the front cam shot.
Downloadable Modes
There are also 4 modes that can be downloaded – most of these retained from Samsung's Note series.
The Auto mode is what you will use the most, the beauty mode works well, Shot & more lets you choose from a variety of shots, and other modes such as Panorama shots, Virtual Tour, Dual Camera function well.
Rear Camera Performance
The 12-megapixel rear cam has a large sensor and LED flash. Fast autofocus is a result of this sensor working efficiently.
Indoor shots in artificial light
The camera performs well in artificial light. The shots are clear and the colors are great.
Indoor shots in daylight
The Samsung Galaxy Alpha provides good indoor shots in daylight, there is a little fuzziness here and there, but the Autofocus more than makes up for it.
Outdoor shots
Taking outdoor shots with the Samsung Galaxy Alpha was a pleasure. The autofocus and the color balance are pretty amazing.  The color temperature is set to cool and the shots come out incredibly detailed and clear.
The autofocus is snappy and consistently works well. There was no visible shutter lag. Colors were mostly accurate. 8 MP Superior Auto shots have slightly lesser details, but this isn't very noticeable, especially on the Z3 display. The HDR performance is good, but you can manage without it too.
Video Recording
Videos coming soon
Samsung Galaxy Alpha can record 4K videos, mostly maintaining  a frame rate of 30fps. Full HD videos. The video quality is good, and one can easily autofocus while taking the video, whether outdoor or indoor. The indoor video sample was great, and the camera could easily focus on multiple objects, even in low-light, but it did take some time to do so. The outdoor video sample was great and it outshone many flagship smartphone cameras.
Conclusion
The Samsung Galaxy Alpha camera experience is definitely something that you can fall in love with. The color temperature is generally warm, but color recognition is absolutely great – Autofocus though, is the crown jewel of this camera – the autofocus speed and accuracy is beyond amazing.