With the CES 2015 tech show is all set to kick start in a couple of days, Alcatel OneTouch has announced its latest Pixi 3 series of smartphones and its first every smartwatch based on Android Wear as well. The OS-agnostic smartphones from the vendor will be available in a choice of operating systems such as Android, Windows Phone or Firefox. With the OS-agnostic feature providing a choice of operating system to the users, the PIXI 3 series of smartphones is the first ones to arrive with such an aspect.
The Alcatel OneTouch's PIXI 3 series comes in different sizes ranging from 3.5 inch display to 5 inch display. On the connectivity front, the 3G and 4G LTE connectivity is enabled for PIXI 3 with 4 inch, 4.5 inch and 5 inch displays and only 3G for the 3.5 inch model. The handsets arrive with easy customization features and are preloaded with several popular applications.
When it comes to smartwatch, Alcatel OneTouch has announced the Watch series that is a smartwatch with an elegant design and reasonable pricing. The vendor has created a new segment for affordable smartwatches with its Watch.
The Alcatel OneTouch Watch resembles a traditional watch and it is claimed to be a Smartwatch at a Smart Price.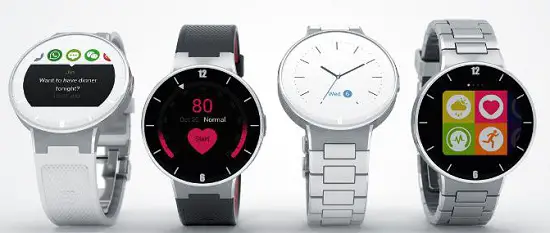 The Watch is fitted with sensors and preloaded with applications that let users to monitor their daily activity. Also, the device can be paired with Android smartphones to control music, receive notifications, and take photos among other functionalities.
Notably, Alcatel OneTouch will be showcasing the PIXI 3 smartphone lineup and the Watch at the CES 2015 in the next week. As of now, the complete specifications of these devices are not revealed and we will have to wait for the event to debut to know more about them.