Xiaomi Redmi Note 4G was available for the second time today on Flipkart and as expected, all 50,000 units sold out in just 5 seconds. In case you couldn't place your order today, you can also try booking one for yourself from the Airtel Stores, where you have better odds of booking a unit.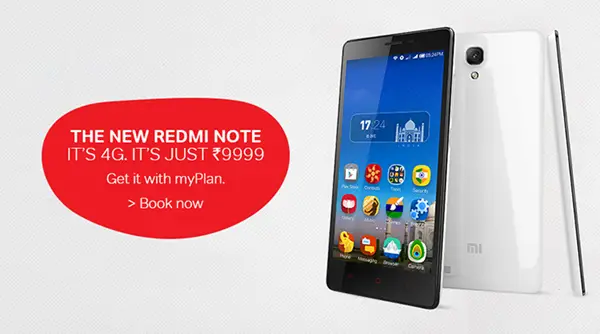 What you need to Book a Xiaomi Redmi Note 4G from Airtel Store Today
First thing you need is a Postpaid Airtel SIM card. If you are a prepaid customer, you will have to switch to a postpaid plan before you proceed. If you don't want to switch to postpaid connection there is still a way to buy a unit from Airtel store (read on)
You will also have to activate a 3G Data plan of at least 500 MB to be eligible for booking Redmi Note 4G.
How to Book Xiaomi Redmi Note 4G from Airtel store
Step 1: Open your browser and visit www.airtel.in/mi
Step2: Click on Book now and this will open a box asking for your details
Step3: Enter your post paid number and mail id, check terms and condition box and proceed
Step 4: You will get an SMS on your Airtel Postpaid number with One Time Password. Enter your 4 digit OTP and click on continue.

Step 5: You can select preferred store nearest to your location and select any available date.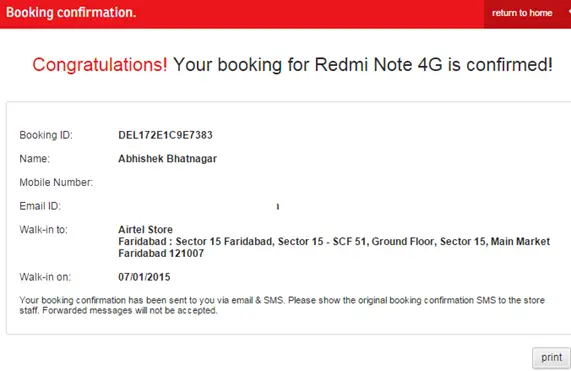 How Airtel Prepaid users can purchase Xiaomi Redmi Note 4G

If you are a prepaid users, you can opt for Prepaid , Don't want myPlan in Step3. Airtel will notify you when its Miday in your city and you can walk in and buy a Redmi Note 4G without booking.
You can read some of the following FAQs to eliminate all doubts-
Question – In which cities is Redmi Note available on Airtel Stores?
Answer – Airtel stores will be selling the Redmi Note 4G in Mumbai, NCR (Delhi, Gurgaon, Noida, Faridabad, and Ghaziabad), Bangalore, Chennai, Hyderabad and Kolkata initially.
Question – If i book a Redmi Note 4G and fail to pick it up on the scheduled date, can I book again?
Answer – If you fail to pick your device, you can pick it up the next day. If you can't make it to the store next day as well, you can try again next week (after Thursday).
Question – Will Airtel's 4G SIM work with 3G Networks?
Answer – When you purchase Redmi Note 4G, Aitel will replace your SIM card with a 4G SIM compatible USIM card. If Airtel doesn't have 4G network in your city, you can avail 3G speeds. Once 4G is available, you will automatically be updated to 4G speeds for the same tariffs.