TomTom has today launched The TomTom Runner and Multi-Sport GPS watches which deliver real-time information such as time, distance, heart rate, pace, speed and calories burnt to runners, cyclists and swimmers. These watches have been priced in the range of 12, 999 INR to 23,999 INR and will be exclusively available on Flipkart.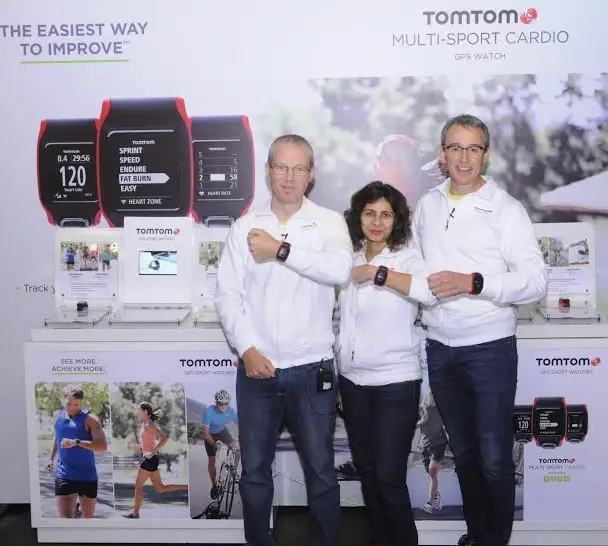 Two other watches, TomTom Runner Cardio and Multi-Sport GPS Cardio can measure heart rate and mirror it on the large watch display and will be appealing to fitness enthusiasts who wish to monitor real time data.
The company claims that 95 percent of runners consider their GPS watch to be their perfect training partner. The TomTom fitness oriented wearables are meant for such fitness enthusiasts.
"Running is an important part of the changing life-style of the young, upwardly mobile Indian" says Kavita Nath, Country Manager, TomTom India. "Our research suggests that access to real time information during a run is one of the easiest ways for a runner to improve their performance, making the GPS watch an essential part of any runner's kit."
The large scratch resistant high resolution display will help sportsperson read the watch face even in bright sunlight. The Graphical training partner offers three different training modes – Race (race against personal best and track performance with real time graphics), Goal (set distance, time, calories, etc) and Zone (monitor heart rate) – for runners.
All watches include an intuitive One-Button Control for convenient navigation even while wearing gloves. You can sync your fitness data with popular fitness sites including TomTom MySports website, MapMyFitness, RunKeeper, TrainingPeaks and Strava.
These watches use GPS and GLONASS to identify user location. These watches are Waterproof up to 165 feet / 5ATM. Battery life will last for around 8 hours according to the company. Bluetooth connectivity is also available.
The TomTom Runner GPS Watch is priced at 12,999 INR, the TomTom Multi-Sport GPS at 15,499 INR. TomTom Runner Cardio GPS Watch and the TomTom Multi-Sport Cardio Watch are priced at 20,999 INR and 23499 INR respectively.