The browser you choose for you android phone makes a massive difference to your smartphone experience. There are several different browsers you can use from and if you are looking for something which is light and works efficiently even with a slow internet connection; here are some of the browsers you can try.
UC Browser
UC browser is one of the best wholesome browser for Android. There are several features to make your life and browsing simpler. You can add several interesting and might useful add-ons according to your requirement.
Speed dial add-on lets you switch to Lite, Mobile or Desktop mode. You can choose the Lite mode for fast browsing. An Add block Add-on is also present which can further improve speed by blocking adds on the webpage being downloaded.
CM Browser
CM Browser is extremely light and very potent browser. It offers solid set of features including incognito mode, well integrated search bar and, full screen mode, night mode and the ability to request desktop site.
You can customize and place shortcuts on the homepage. The browser is quite fast. If you like downloading apps from third party app stores, this browser can scan APK files and warn you of any potential security threat.
Next Browser
The Next browser from the Go Launcher team is one of the most resource efficient browser you will come across. The browser is very suitable who like to read much as it can save pages for reading offline later and also has integrated RSS feed reader.
Next browser consumes less memory and thus takes less power. It also doesn't leave any processing running and thus you don't have to worry about it draining resources in the background. There are several extensions to choose from.
Next browser claims on Play store page that it won't take more than 1.5 second to open a page, which is about true. You can import chrome book marks, decide if you want to load images on data networks, avail flash support and more on this simple yet efficient browser.
Opera Browser
Opera Browser, which carries forward Opera Mini's legacy, is one of the most popular browsers, at least in India. The interface is quite simple. You can get all your updates on the main home page and switch to speed dial tabs where you can set shortcuts for frequently visited web pages.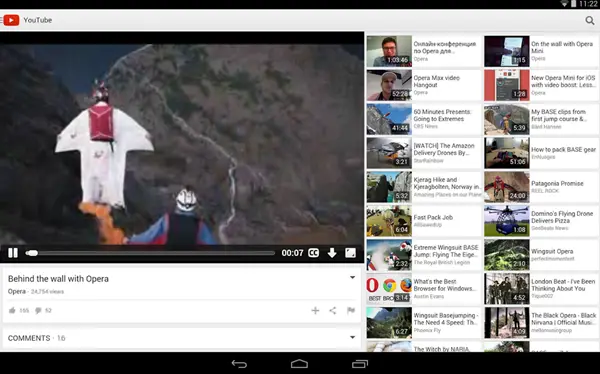 The browser loads pages quite fast too. The browser also features an off-road mode which keeps you connected even on slow 2G networks. The mode works very well in week internet areas.
Puffin Browser
If you like watching flash videos on your smartphones, Puffin Browser will come to your rescue. UC Browser allows you to play most flash videos, in support with flash player, but the experience is much better on Puffin browser.
The free version gives you limited time support for flash while the paid version is the one with full support. The browser also gives you an onscreen mouse trackpad, pointer and virtual joypad. In our opinion, UI is very simple which prevents it from being a primary browser, but it is still a frequently used app on our device for its usefulness in critical times.
Some Other Browsers
Besides our top 5 choices, you can also try other browsers like Maxthon Browser, Atlas Browser, Mozilla Firefox and One Browser.
Conclusion
Since your browser is your window to the world of internet, it is extremely important that you find the best one suited to all your needs. Since most of these browsers are light, extremely powerful and free, you can download and try them to know which one suits you best.