Broken smartphone displays are the most often reported hardware damage that has occurred to smartphones. Whether it be a low-range smartphone or a high-range one, one small sleight of hand or a little drop could actually cause the display to break. It is very painful to go through the experience of screen breakage and then shell out the moolah for screen replacement. But it does happen and there is every possibility that it might unfortunately happen to you.

Why do smartphone displays break so easily?
Smartphone displays, despite the advancements in display glass, such as Gorilla Glass, Dragontrail Glass, shatter-proof glass are given to breaking. In fact, sometimes it happens that the displays crack inside, even if the glass stays unbroken. This happens because more and more sensitive materials have been used for better display clarity, brightness and responsiveness. It also happens because of the reduction in the gap between the display and the digitizer as a requirement for thinner and sleeker phone.
Smartphone display replacements have also become a huge money churner for many smartphone companies. Well, don't rush too fast to the service centre.
We have used a test case of Nexus 5 display and tried to provide you an alternative way to replace the smartphone display.
Let's start out by saying that a standard display replacement from the LG Service Centre comes for around Rs. 7,000 – a huge wad of money considering the phone came for around Rs. 25,000. (An iPhone 6 display replacement comes for around Rs. 32,000 –  more than half the price of the phone)
First Step: Looking for a smartphone display assembly online
Well, this is something that most people do not know. Firstly, the smartphone display assembly consists of two main parts – the display glass and the digitizer assembly. You have to take into account whether your display glass is damaged or the whole display assembly needs to be changed. Making this determination is simple – All you need to do is have a detailed look at the handset. If the damage is just to the outer glass and not the internal display for e.g. scratches etc. and not breakage per se, you should just get the outer glass replaced. If the damage is bigger, you can get the whole display assembly replaced.
If you are not sure about the damage, either visit your local service centre to ascertain or take the handset to a mobile repair shop.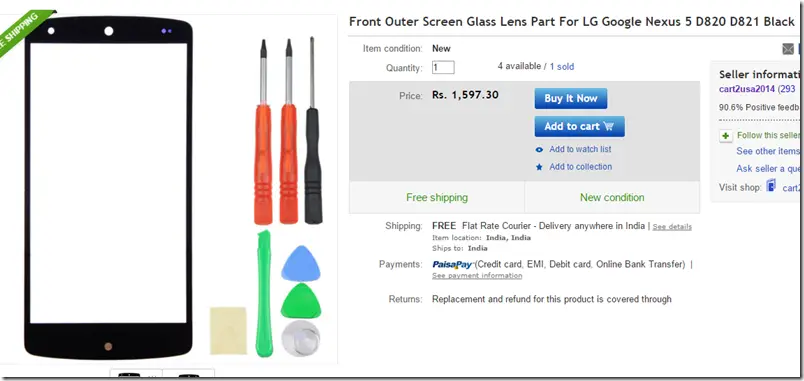 Nexus 5 Outer Glass

Nexus 5 Outer Glass and Digitizer Assembly

Nexus 5 Damaged Display with working Digitizer
As you can see, we have taken screenshots of spare parts available for this handset. While the first two screenshots are self-explanatory, the third one might drive you curious.
Well, we have added this one, because this seller is providing a working digitizer albeit with a cracked display. So, basically, if you need a display replacement and find the price tag of around 5K a tad expensive you can also opt for a third way out – you can source the outer glass from somewhere and digitizer from some other place making it work for around Rs. 2500. In case you are sceptical about third-party parts, most of these sellers on leading e-commerce sites actually have a return and refund policy to keep you covered there. Many of them will also provide you a repair kit with the part, which is great.
But one thing – they won't take back damaged parts or ones with seals broken, so you need to tread your ground carefully there.
While this is just for the Nexus 5, you can try these permutations and combinations for other handsets also.
I have procured the spare parts, what next?
Well, if you have got everything you need, how do you go about repairing the handset? Obviously, the presumption here is that you are a novice and not an engineering graduate. Here's how. There are actually several tutorials available online on repairing your handset. Here is a sample video on performing this little operation on the Nexus 5.
LG Nexus 5 Screen Repair & Disassemble [Video]
While it might sound like a daunting task – It is not that difficult. If your confidence is at an okay level after watching a few such videos, you can proceed to the next step, which is checking if you have the right tool. This is essential. Always verify that you have the same tools as the ones shown in the tutorial. If not, be patient and procure them. The toolkits are easily available out there and can also be shipped internationally if you aren't finding them for your handset.
Secondly, be very steady with your hands. Use a clean space, preferably a big sheet  of white paper which you can place over the table so that you can see all the parts you need to deal with. Smartphone parts are small and even if you lose a single screw it can cause a havoc. So be very careful with those.
Thirdly, follow the directions, As instructed in the tutorial. Do not deviate.
Those, warning shots being sounded, it is not too difficult to do this. All you need is patience and observation.
Well, I am still afraid that I won't be able to do it
In case, you are uncertain about your ability to replace the display or just don't want to deal with the complications don't despair. If you have the requisite parts, there are actually repair shops all around. Check out one where you can get it repaired. Go to one where they already do such repair and always get it done right in front of you so that you are sure that he isn't doing anything wrong.  The repair cost wasn't too expensive either.
For this handset, we inquired at one of the leading markets for this and the quote we got, was Rs. 500 for fitting the display and Rs. 1000 if the display and digitizer assembly had to be separated.
The main cost is of the spare parts, which is what you should focus on the most. While we have created this instructional article to show you that there are alternatives to spending a huge amount of money on getting your smartphone display replaced from the service and we certainly hope that it was helpful. In case, you want another one for a different handset, do let us know and we will do our best to help you out with all the information you need.
Warning: This is an instructional article written for the layman and we advise you to follow directions as stated. In the event of any unfortunate damage, we do not assume responsibility.