Samsung has today launched two Multi functional Printers – CLX-9200 Series A3 color MFP and SCX-8128 Mono MFP in India starting from 2,30,000 INR and 1,60,000 INR. MFPs are meant for professional environment and can be used as printer, a scanner, a fax machine or a photocopier.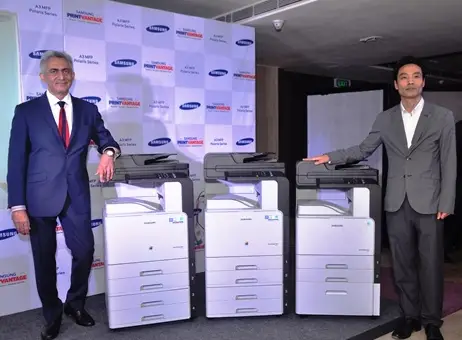 The smallest A3 MFP in its class, the CLX-9200 Series has been designed for small and medium size businesses. It also features a 1 GHz dual core CPU for faster processing and thus faster operating speed. Samsung claims this chipset is 1.5 times faster than other conventional 1 GHz CPUs in other MFPs.
The A3 CLX-9201/9251 devices hold printing speed of 20 and 25 PPM whereas , the A3 Mono SCX-8100 Series hold printing speed of 28 PPM. By combining several boards in one unit, Samsung has also reduced idle power consumption by 60 percent.
This MFP makes use of ReCP image enhancing technology with real 1,200 x 1,200 dpi for sharper and crispier printouts with vivid images. This is further aided by company's new Polymerized toner co-developed with Samsung Fine Chemicals.
With SmartThru solutions, these MFPs simplify information sharing through the direct application on fax, FTP, print, E-mail and Microsoft SharePoint. There is a 7 Inch touch screen panel which can be used for easily operate these machines via a user friendly interface.
Both MFPs flaunt a compact ergonomic design measuring just 560 x 600 x 844.3 mm and tipping the scale at 72.5 Kg, thus allowing for convenient hazel free installation or reinstallation. Separated toner, OPC drums and developer unit will reduce maintenance cost.
"These new MFP are the one stop printing solution to the ever changing needs of the small and medium businesses in India. We want to enhance our customers' user experience by developing products with superior performance in the most compact form." Said Vipin Tuteja, Vice President, Enterprise Business Division, Samsung India Electronics. "With the new range of MFP we wish to continue our tradition of offering best in class products to our customers."
The CLX-9200 Series A3 color MFP are available at prices range of Rs. 230000 to Rs. 290000/-. SCX-8128 Mono A3 MFP is available at 160000/-.