In case you need to take a file from your friends PC and you are not carrying a wire with you, WiFi file transfer can be your savior. Even without OTG supported pen-drive or a USB wire, you shouldn't have to compromise on transfer speed. Here are some of the apps you can use for efficient Wireless transfer.
Airdroid
Airdroid is an app we regularly use for swapping big and small files from PC to smartphone or vise versa. Like other WiFi apps, efficiency depends on your proximity to your router. All you need to do is download and open Airdroid on your smartphone.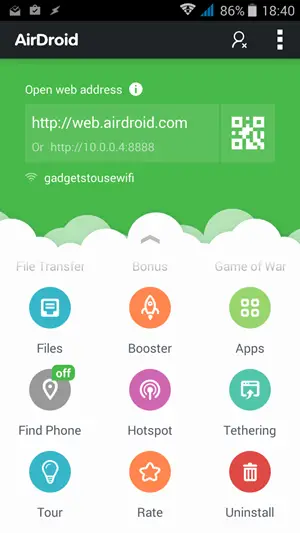 You can also skip registration and directly enter the IP address generated by app in your browser. You can now access your entire smartphone from your PC. The app is loaded with features including a file explorer, Hotspot, Cache cleaner and more. However you will need your PC with you. You can't independently transfer files from mobile phone to your PC.
If your USB cable is out of reach or dysfunctional, Airdroid is the way to go.
WiFi File Transfer
WiFi File transfer is other WiFi direct based app which allows you to transfer multiple files at once. Google chrome users can upload entire folder structure at once. If you wish to use the app in public WiFi networks, you can use the password authentication feature. The app however doesn't allow you to transfer big files like Airdroid. You will have to buy the pro version to avail this functionality.
Unlike Airdroid, WiFi transfer has a very basic interface without any other extra features.
Super Beam
Super Beam is a again a very useful app which can be used to send files to PC, smartphones and even to iPhone, using a browser. The app is quick and easy to use. You don't need a WiFi network to transfer between smartphones.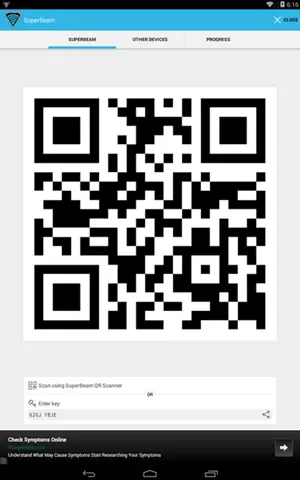 The app also allows you to conveniently connect to all other devices by scanning a QR Code, which makes it a lot simpler. A very efficient and simple PC client is also present, but you will need to have the pro version to transfer files between PC client and mobile app. You can meanwhile use browser code to exchange files with your PC.
Pushbullet
Pushbullet is a must have application for all android phones. The app offers several cool features like universal copy and paste, SMS integration and allows you to push links and small files between your PC and all other Android/iOS running device via Pushbullet chrome extension. You can push from any device to any other or all your devices simultaneously.
If you already have this on your phone (which you should) you don't need to download a separate app for small wireless transfers. The app doesn't work using WiFi direct like other apps in this list.
Conclusion
As you can see most of these apps work on WiFi direct and you would need to be connected and close to a WiFi router for best efficiency. Transfer won't be related to your internet speed and won't consumer your WiFi limit. You can download Gigabytes of data in matter of seconds.