Sometimes with software updates or due to physical damage, one or more hard and capacitive button on your device might stop working. Or if on screen gestures and touches are more in line with your taste, you can explore some of these apps mentioned below. These apps can be potential life savers in crisis and a fun features in regular usage scenario. We have included only those apps which do not require root access.
Easy Touch
Easy Touch for Android is analogous to assistive touch on iOS. The app allows you to add several custom options to easily navigate your device. Using this app you can switch between apps, adjust settings toggles, adjust volume, reach home screen and lock your device without using any hard button or capacitive keys.
To avail back key and menu key options (menu options have anyways shifted to app interface with android kitkat), you will need root access. You can also download and use one of the several available free themes. Easy touch will be accessible from all screens, but if you don't want it interfering while using a particular app, you can long press and transfer it to notification panel temporarily.
Gravity Screen
Gravity Screen lets you do almost everything once you have unlocked the device, but how about unlocking your phone without the hard power key? You can use apps like Gravity screen for this simple purpose.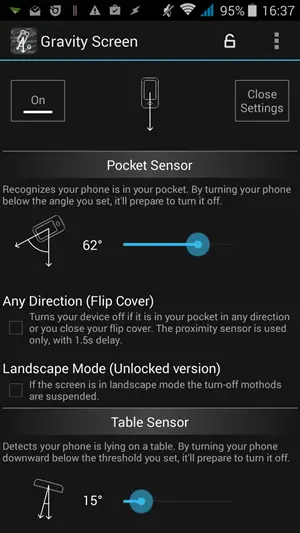 The app works automatically without root access and presses the power key for you every time you take your phone out of your pocket or pick it from your table. It smart and works very efficiently. The app uses proximity and gravity sensor to recognize when you pick your phone from any state and eliminates the need for a power button. Pro version will offer some added features and improved performance. You can pause Gravity Screen from notification pannel.
You can also use apps like Swipe lock and Knock Lock to conveniently lock your screen. If you are using AMOLED display, you can use apps like Knockr to set unlock pattern even on lock screen.
Launcher
Most popular launcher apps allow you to efficiently use your smartphone by simple onscreen gestures. You can add "recent apps" and other toggles shortcuts on your home screen too. You can assign gestures like swipe up, swipe down, double tap, etc to take you to specific apps, shortcuts or actions.
Since most launchers allow you to add shortcuts for recent apps – there is one less navigation key you need to be bothered with.
You can also use side launchers like Lazy swipe and SwipePad to take this comfort to the next level.
Handy Soft Keys
Handy Soft Keys is a simple app to replace your home keys. You will have to manually go to settings>>accessibility and grand accessibility permission to the app, and then restart your phone. The best part of this app is that it allows you to use the back button without rooting, something which Easy Touch doesn't offer.
It's a simple app which allows you to access back, home and recent apps navigation keys using an unobtrusive arrow on left side of your home screen.
Power Button to Volume Button
If your power button breaks, you can accomplish most stuff without rooting using the apps mentioned above, except for powering off or powering on your smartphone. This can be done using this simple playstore app without rooting.
Power Button to Volume Button allows you to turn screen on or off using volume rocker. The app can be used only as a temporary fix as it can drain your battery very fast. You can use it while you seek permanent solution for your problem.
Conclusion
You can use these apps in several combinations depending on your requirement. If your phone is locked when you break you button, you can make some on call you or connect charger, etc to awaken your display and proceed with installing and setting up some of these apps. They can temporarily sustain you, but you should also look for hard button replacement whenever possible.