Android devices come with capacitive buttons or physical home buttons, but sometimes these keys might get worn out due to excessive usage or damage. On the other hand, you might not prefer using such buttons as you have a liking towards touch based screen gestures. Well, in such cases, you can add assistive touch features to your Android device. This adds gestures to your smartphone and you can make specific gestures to open the menu, access to home screen or toggle the quick settings on and off without using the keys on the device. This feature is not included by default on Android devices, but there are several applications that can be installed from the Play Store to render such functionality. Take a look at some of those applications from below.
Easy Touch
Easy Touch is a home button replacement application that is unique and different. The app brings a floating widget with advanced solutions and lets you to personalize it as per your preference. The holo styled button lies on a corner of the screen's edge and once you want to access applications or switch from one app to another, you will have to tap this button. A little window will open on the screen and you will have several features such as favorite apps, lock screen, settings, home button, display brightness, flash light, sound modes, volume, Wi-Fi and other features. This way, Easy Touch is a tool that will provide access to all the controls via a floating window.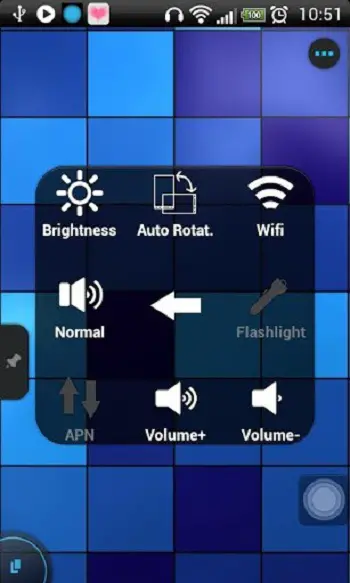 Touch Me – Assistive Touch
The Touch Me – Assistive Touch adds an easy touch button similar to the Assistive Touch on iOS. This button floats all across your Android device's screen and it can be moved anywhere on the screen. This floating assistive touch application lets you to tweak the quick settings such as toggling flash light, Wi-Fi, GPS, display brightness, Bluetooth and others directly from the lock screen. You can also open your favorite applications, desired contact information, call or send a text message to a contact, access the home screen of your Android device, access memory optimizer in a single click, super task manager or killer and lock your phone as well.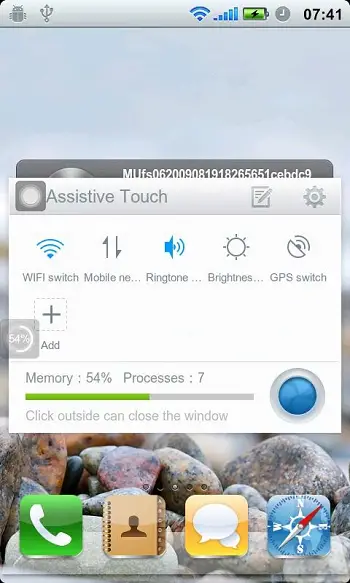 Floating Toucher
The Floating Toucher app is completely customizable. The app displays a button that can be placed anywhere on your screen. There is an expandable menu as well that can be customized in a variety of colors based on your choice. When you want to expand the menu, you will have to tap the virtual button. You can include those options that you want this menu to have as per your preference. You can also customize what options you want to appear in your menu as well. Notably, you will have to open the main application to carry out any customization in the floating button or the menu.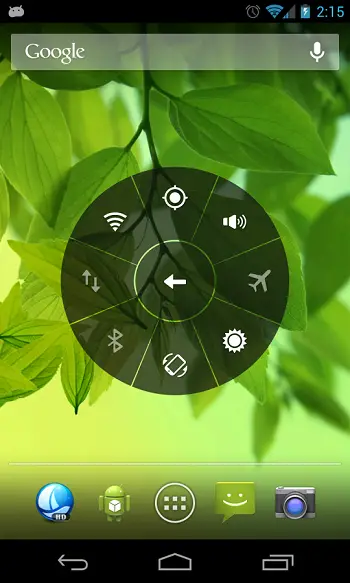 Conclusion
The applications we have mentioned above are some that will add a customizable floating button or menu on the display of your smartphone. This way, you can access all the controls of your phone using gestures instead of pressing the physical or capacitive keys on your smartphone.