Like always, LG can't wait for the big event to show its lineup. After LG Watch Urbane, the company has also announced its portfolio of 4 new mid range smartphones – the LG Magna, LG Spirit, LG Leon and the LG Joy – which will be showcased at MWC 2015 next week.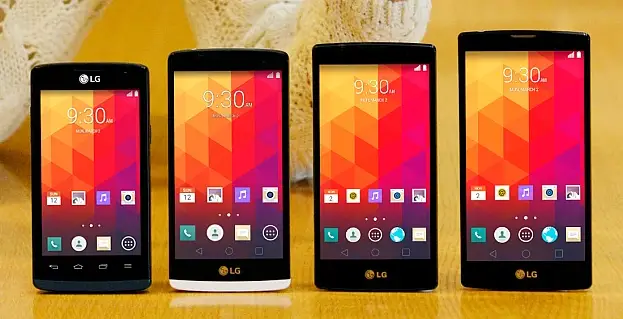 LG will be launching separate 3G and LTE variant with different specs depending on market. LG claims that the biggest highlight of this new lineup is premium design and software features similar to high-end LG devices.
LG Magna has a 5 Inch HD display, powered by 1.3 GHz or 1.2 GHz quad core SoC, backed by 1 GB RAM and 8 GB internal storage. This mid range device will also sport 8 MP rear camera, 5 MP front camera and a 2440 mAh battery rapped inside 10.2 mm thick body.
LG Spirit has a slightly smaller but denser 4.7 Inch HD display, with the same chipset as LG Magna. Imaging hardware has been trimmed down to 8 Megapixel rear and 5 MP/ 1 MP front units. Battery capacity has also been marginally reduced to 2100 mAh. The handset measures 133.3×66.1×9.9 mm.
LG Leon features a yet smaller 4.5 Inch display with FWVGA resolution. Depending on 3G or LTE variant, the phone will employ 1.2 GHz quad core or dual core SoC backed with 1 GB or 512 MB RAM, and 8 GB or 4 GB internal storage respectively. Other features include 1900 mAh battery, 8 MP rear camera and 5 MP or VGA front camera.
LG Joy is the smallest and chunkiest of the three with 11.9 mm thick body and a 4 Inch WVGA display. Chipset remains same as LG Leon, while other features include 5 MP rear camera, VGA front camera and a 1900 mAh battery.
Again, software will be market specific and you will get either Android 4.4 KitKat or Android 5.0 Lollipop depending on where you live. Price and availability details will be revealed later.
Key Specs
| | | | | |
| --- | --- | --- | --- | --- |
| Model | LG Magna | LG Spirit | LG Leon | LG Joy |
| Display | 5 inch, FHD | 4.7 Inch HD | 4.5 Inch FWVGA | 4 Inch WVGA |
| Processor | 1.2 GHz/ 1.3 GHz Quad Core | 1.2 GHz/ 1.3 GHz Quad Core | 1.2 GHz Quad Core/ Dual Core | 1.2 GHz Quad Core/ Dual Core |
| RAM | 1GB | 1 GB | 1 GB/ 512 MB | 1 GB/ 512 MB |
| Internal Storage | 8GB | 8GB | 8 GB/ 4 GB | 8 GB/ 4GB |
| OS | Android 4.4 KitKat/ Android 5.0 Lollipop | Android 4.4 KitKat/ Android 5.0 Lollipop | Android 4.4 KitKat/ Android 5.0 Lollipop | Android 4.4 KitKat/ Android 5.0 Lollipop |
| Camera | 8MP/ 5 MP | 8 MP / 5 MP or 1 MP | 8 MP/ 5 MP or VGA | 5 MP/ VGA |
| Battery | 2,440 mAh | 2100mAh | 1900 mAh | 1900 mAh |
| Price | TBA | TBA | TBA | TBA |