One major barrier which often prevents you from factory resetting your Android phone is the fear of losing precious apps and app data. Or perhaps when you buy a new Android phone, you would want to take away some apps with you. Here are some ways to achieve this.
Enable Backup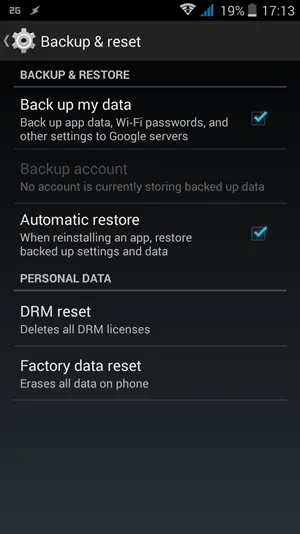 The simplest way to do this is by enabling the option in Settings>>Backup and Reset>> Back up my data. This allows Google to store full record of list of your apps on all devices. When you setup a new device for the first time or after factory reset, you can enable sync with Google when prompted and apps will download to your device automatically.
Google Play Store on Android
It is likely that not all of your apps will be downloaded automatically. You can manually select Apps for better reliability using following steps.
Step 1: You can open playstore app on your android phone and select My Apps from menu.
Step 2: Installed Apps will show what you have on your device and All Tab will list all apps that you have ever downloaded
Step 3: Scroll through this list and tap on apps you wish to install, grant permissions and hit the back button
Step 4: Now tap on another App and repeat step 3. This way, all apps you want will queue up for downloading
Take a break and when you return, all apps would have made it to the list
Google Play Store using PC
If you have downloaded 1000s of Apps in the past spread across several Android devices that you have owned, accessing play store from your PC can make this simpler with a few extra options.
Step 1: Open Google Playstore in your PC browser and Login
Step 2: Select My Apps from the list on the left side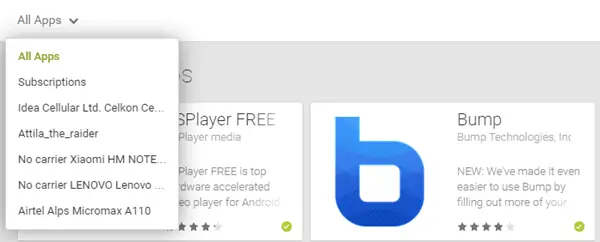 Step 3: from the all apps drop down list select the particular android phone you wish to backup from.
Step 4: If you are looking to download from more than one device, you can click on the settings wheel on the top right corner and again select settings.
Step 5: You can now check devices you wish to include in the list and then select and queue the ones you want
Android Lollipop makes this process much more efficient and easy. It allows you to download from selected devices at the time of setup itself. You can either use NFC and tab two devices against one another for full restore or just select a device you wish to backup from.
Helium Backup
Helium Backup can be used to take and restore reliable App backup with App data, even on non root devices.
Step 1: you will need ADB drivers, Helium Backup and Sync chrome App or Desktop client and Helium App, preferably Pro version on your Android. The Pro version allows you to keep backup on Cloud, the free versions puts that on phone storage.
Step 2: Once you have all of the above, connect your old phone to your PC and open the desktop app
Step 3: Select apps you wish to take backup of. You can also choose to take backup of App Data only
Step 4: Choose your backup destination
Step 5: Now connect your new phone to PC and click on restore button on the desktop client
If you are a root user, you won't need ADB drivers or connecting device to your PC. Root users can benefit from several other apps like Titanium Backup which can be used to move app and app data.
Recommended: [How To] Take Complete App And Data Backups On Your Android Device [ROOT REQUIRED]
Conclusion
Rooted users have several effective options but when you are switching to a new phone, it's not always possible to use a root it. Apps which automatically sync data to cloud like Evernote, Candycrush, pocket, etc are very useful in this regard, but for other apps you value and their data, you can use one of the methods mentioned above.