Gone are the days when SMS was the only text messaging option on mobile phones. The arrival of smartphones has changed this perspective and several messaging have come up. These days, most of the communication is happening via free internet messaging using the chatting applications. Two of the most popular messaging apps are Facebook Messenger and WhatsApp.
To remind you, WhatsApp was acquired by the social networking firm Facebook in February 2014 for $22 billion. Hence, the fight in the messaging space between the two apps that are owned by the same company is pretty interesting. WhatsApp has over 700 million users and this number is increasing by the minute. Also, the application has started getting new features to make it competent enough as its rivals.
On the other hand, Facebook as a social network is quite popular and its messaging application, Facebook Messenger is also getting into the mainstream. The app has got many features similar to any other messaging application for smartphones.
While there are many who consider WhatsApp is the best one just because everyone has it installed in their smartphone, it is not the case. We have come up with five reasons that will suggest that Facebook Messenger is already ahead of WhatsApp. Take a look below to know them in detail.
Facebook is Free
Facebook Messegner is free to use for lifetime, and it is likely to remain the same forever. WhatsApp, on the other hand, is free to use only for one year and later, you will have to pay $0.99 per year to use the service. Well, it might not seem too expensive as you can send messages, audio, photos and videos with your loved ones for free at less than a dollar per year. But, Facebook Messenger does not even charge that small amount to render the service.
Free Voice Calling Within Application
Facebook Messenger supports making voice calls via the application using internet. You can directly call any person who is on your contacts list in the application and also read the call log whenever you need. On the other hand, WhatsApp is yet to rollout such a feature to its users.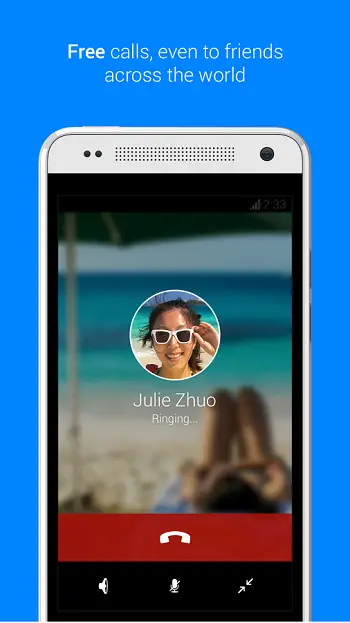 Recently, there have been reports that WhatsApp has come up with the voice calling feature via the application, but it is available only to a small set of Android users and the others are yet to receive it. It is said that you will receive the feature only if you have the latest version of it and if you receive a call from another user who has that feature.
Send Stickers Via Facebook Messenger
Usually, messaging applications have different sets of emoticons to communicate in an interesting and funny way. But, Facebook Messenger is one among the few that has stickers that will add more fun to the mundane conversations. Rather than using the standard smileys, you can download the additional sticker packs from the Facebook Sticker Store. These stickers are very nice adding a new life to the conversations.
WhatsApp does not support stickers like Facebook Messenger or Viber. It does provide support to a huge array of emoticons representing different things, but it would be a welcome feature to see stickers on WhatsApp.
Facebook Messenger Need No Number
While WhatsApp requires your phone number to create an account, Facebook Messenger does not need it. This way, anyone who has your phone number can get contact you on WhatsApp. But, the case is different with Facebook Messenger as only those who are your friends on the social network will be a part of the messenger. Moreover, the application does not require you to provide your mobile number to use the service. Also, WhatsApp shows when you were last seen, but this issue is not with the social network's messaging app.
Facebook Chat Heads
Facebook's Chat Heads notification feature helps you in messaging with who ever you want to without quitting the other applications that you are using at that time. You need to switch between the apps to do the same. Once you enable the Chat Heads option, it will pop up on the screen when you are playing a game or watching a movie or anything else. You can move the chat head anywhere you want in the screen or close it as well without exiting from the other app that you are using.
Such an option is not available on WhatsApp that is a downside. You will have to access the messages that you receive via the app only by opening it.
Conclusion
Though we have mentioned that Facebook Messenger is the best one in different aspects, you can use the application that all your friends and family members are using. You will have to keep both the apps on your smartphone to communicate with your dear ones.