Though we have been talking and hearing about Mobile payments for several years now, Apple Pay and Samsung Pay (and Android Pay) will soon transform this to everyday reality. Apple introduced Apple Pay with iPhone 6 and iPhone 6 Plus and the service has already been adopted by all major Credit card companies and retail store chains in USA. Samsung Pay will start a bit later but has features that will allow it to cover the gap and gain traction over Apple pay.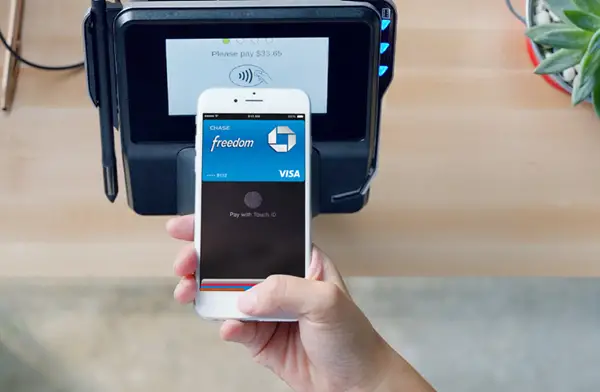 How Apple Pay and Samsung Pay work?
Both these services allow you to store credit and debit card info securely in a mobile app. When even you need to make a purchase, you can authenticate it using fingerprint scanner and the app can then send a magnetic token to the merchant terminal. Both services use Mobile Digital Enablement System (MDES) built by MasterCard for tokenization. You can also use Apple Pay and Samsung Pay for payments within apps like Uber, Wallmart, etc.
Samsung Pay Advantage
To transfer token, Apple Pay uses NFC and requires merchants to invest in a new hardware, it is however more secure than Magnetic Stripe readers. Samsung Pay will support Magnetic Strip Readers, which are already installed on almost all stores in US and in several other parts of the world (10 million points worldwide).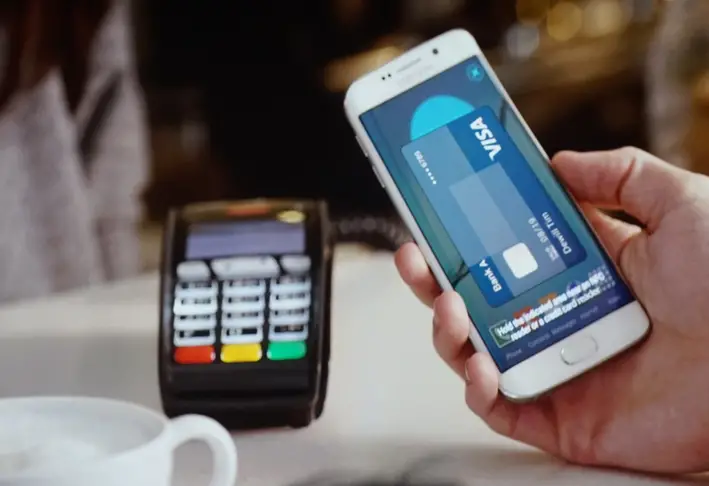 Samsung Pay also supports NFC based secure token transactions which is the way of the future. Samsung has not only integrated both tech in Samsung Pay but has also waved off all fee for merchants and Banks to use Samsung Pay. Apple reportedly charges a small percentage from banks for every transaction. These advantages will temporarily help sky rocket Samsung Pay adoption, but only in US.
Compatibility
Being ahead in the race, Apple Pay is compatible with both iPhone 6 and iPhone 6 Plus and will be compatible with their successors to be launched in next 6 months. The Apple Watch also supports Apple Pay.
Samsung Pay will debut with Samsung Galaxy S6 and Galaxy S6 Edge after a couple of months. Present high end Samsung smartwatches do not support this functionality.
Apart from devices, Apple Pay is supported by 90 major banks and credit institutions. We will know more about Samsung Pay's partners when the service is official this summer.
Security and Privacy
Every NFC transaction requires a secure element which protects your crucial info in case of hardware or software attack. For the same purpose, Samsung uses chips made by Infineon. Besides, both Samsung Pay and Apple Pay require you to authenticate payments using fingerprint scanner.
The basic concept is your credit card details are stored as a device account number on dedicated chip. Your phone won't remember or save your actual card number at any place on device or cloud. the account number even if leaked won't be meaningful to hackers. when you authenticate payment using fingerprint scanner, the chip is accessed and sends a token which is decoded at the terminal.
Apple also uses a hardware secure element which generates a random one time user code for each transaction. Apple has also explicitly made it clear that the company won't store or tack your valuable purchase data. Samsung hasn't made any such promise yet.
Usage
Apple Pay can be used even with your phone screen turned off. You just have to tap your phone to the payment terminal and scan your finger without even looking at your phone.
Though it's still too early to talk about Samsung Pay usage, initial demonstrations show it will require a few more steps.
Apple Pay Demo
Samsung Pay Demo
Availability
Apple Pay is still available only on 200,000 merchants in US. Once the service starts rolling out in Europe, where everyone uses Chip and Pin cards, Apple Pay adoption rate is expected to rapidly increase in Europe. By 2016, USA is also expected to transition to Chip and Pin cards and then Apple Pay will penetrate even deeper.
Samsung Pay on the other hand will be immediately supported on millions of retailers in US when it launches this summer. Samsung will enjoy temporary advantage with MST till 2016. Apart from US it will also be available in South Korea. Rest of the world will still have to wait.
Conclusion
So for now, mobile payments will be possible only via Samsung and Apple smartphones. What about rest of the rest? Android Pay will take care of the rest. Android Pay will provide application program interface which will allow developer and smartphone makers to add their own mobile payment system to Android devices. This will be significantly easier than building a payment system from scratch. It will be interesting to watch adoption and trends of Apple Pay, Samsung Pay and Android Pay till next one year.