Among LG's recently launched mid range portfolio, LG Magna stands at the top, offering a decent mid range performance with esteemed LG branding. The handset is expected to be available for around 18K in India within next 30 days.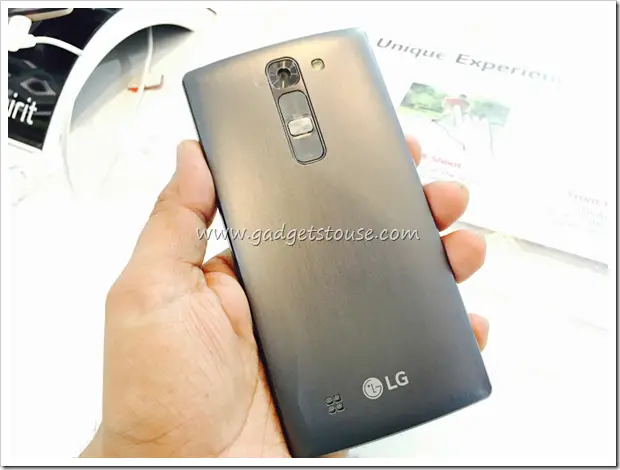 LG Magna Quick Specs
Display Size: 5 Inch HD, Curved in-cell LCD, 294 PPI
Processor: 1.2 GHz Snapdragon 410 Quad Core
RAM: 1 GB
Software Version: Android 5.0 Lollipop based custom UI
Camera: 8 MP rear camera,
Secondary Camera: 2 MP
Internal Storage:  8 GB
External Storage: 32 GB
Battery: 2490 mAh
Connectivity:  4G LTE, HSPA+, Wi-Fi 802.11 b/g/n/ac, Bluetooth 4.0 with A2DP, GPS, Dual SIM
LG Magna Hands on Review, Camera, Price, Features, Comparison and Overview at MWC 2015
Design, Build and Display
The design is one of the significant feature LG is trying to sell to mid range buyers. The back has LG G Flex 2 like curve and interestingly, the front display glass assembly is also slightly curved. The curved display tech used is of course different, this being a mid range device.
Body material used is plastic, though the rear side imposes a brushed metal finish. LG Rear Key has also made the cut, which essentially means both power button and volume rocker have been placed below the rear camera sensor.
The 5 Inch IPS LCD Display, with 720p HD sharpness and vibrant colors, isn't outright impressive but shouldn't be a deal breaker. Viewing angles aren't great and could have been better at this price point. LG hasn't mentioned Gorilla Glass protection on top either.
Processor and Battery
Chipset is quite mediocre, so if you are a moderate or heavy user, you might want to look someplace else. However, for most users Snapdragon 410 quad core at 1.2 GHz coupled with 1 GB RAM should be enough horsepower for day to day usage. The fact that same SoC is available in smartphones less than half the expected price will further mark a dent in its sales.
Camera and Internal Storage
Both 8 MP rear and 5 MP camera's appeared to be very decent performers. We have seen several glittering high performance 13 MP shooters for less than 20K INR, so it have to face some stiff competition. We will reserve our verdict till full testing under different lighting conditions.In our initial testing we liked the selfie camera performance on Magna.
Internal storage is 8 GB, out of which around 3 GB is available at user end. You might find some comfort in 32 GB MicroSD support, but again, the storage makes it more suitable for basic smartphone users.
User Interface and Battery
User interface is Android 5.0 Lollipop based custom LG UI. Good thing is that LG has kept all the bells and whistles that come with Lollipop design intact, while adding a few custom features on top. In our initial testing, the interface was very responsive, smooth and engaging. LG has provided a 4th software button, next to navigation keys to switch between SIM cards.
Battery capacity is 2450 mAh, which sounds pretty good considering the chipset and display resolution. This shouldn't be a problem for users aspiring for one day or more of basic usage. Also, the battery is user replaceable.
Conclusion
LG Magna is more about design, slick software and a chipset that ensures everything runs smoothly. By far this isn't meant to please spec junkies, who have several other options to choose from. There are things like display, RAM, etc. which could have been better. Does it make sense in Indian market? That will depend on the pricing. If LG Manages to restrict for under 15,000 INR (Which isn't likely), Magna could be a appealing to those hankering for a tier one branding and those who appreciate core elements of LG Design.