The new UC Browser application features doodle sharing and supports better Facebook photo upload. Today, UC Browser, the leading mobile browser in India with a market share of 41 percent released an update to its application. This update brings in support to a funny doodle sharing feature and also smoother Facebook photo upload support.
Everyday, you spend hours together browsing about diverse content to know different information. When you find interesting news, you will like to share them with your friends immediately. This is possible with the latest iteration of UC Browser as it supports Funny Doodle Sharing feature.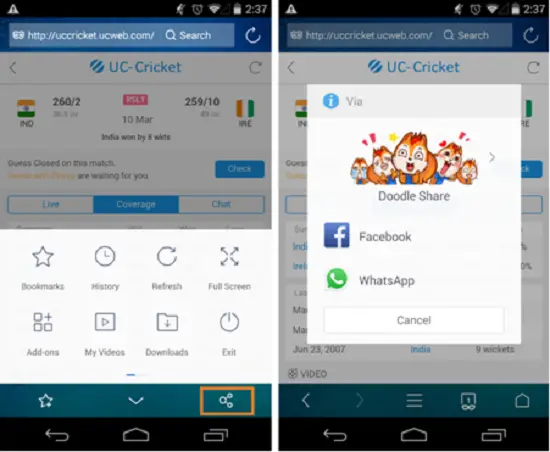 Once you come across a doodle that you want to share with your friends via Facebook or WhatsApp, you will have to carry out simple steps as follows.
Tap on to the Menu option on the UC Browser.
Click on the Share option.
You will be prompted to choose between Facebook and WhatsApp to share the doodle.
Apart from a doodle, you can also send a webpage screenshot with the UC mascot sticker on it. This can be shared via Facebook, Facebook Messenger, Whatsapp, email and so on. UC Browser has many expressive stickers that can be used to share your emotions with friends.
Many Indian users access Facebook via UC Browser everyday and hence, the team has come up with a feature to enhance the Facebook browsing experience. This latest supports photo uploading to Facebook by letting you to add a stable photo uploading process. UC Browser's recent version lets you to have a transparent background when browsing websites and to synchronize the bookmarks from the default Android browser.
To download the latest version of the UC Browser, click on this link.