Android PC Suits are not among most popular tools being used by Android users, and if you haven't used any so far, you will be pleasantly surprised by how much useful these can be in variety of situation. Android PC suits essentially help you manage your Android smartphones from your PC but can do a lot more than
MobileGO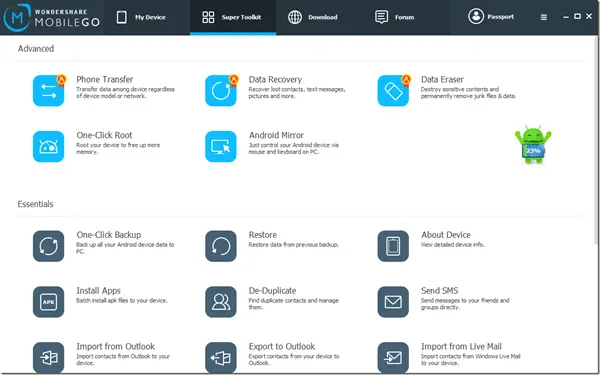 MobileGo is a very old and trusted PC Suite which can be used to backup contacts, Apps, App data, batch install APK files, transfer data between two phones or between your new phone and PC, merge duplicate contacts, import contacts from outlook, get one click root access and more.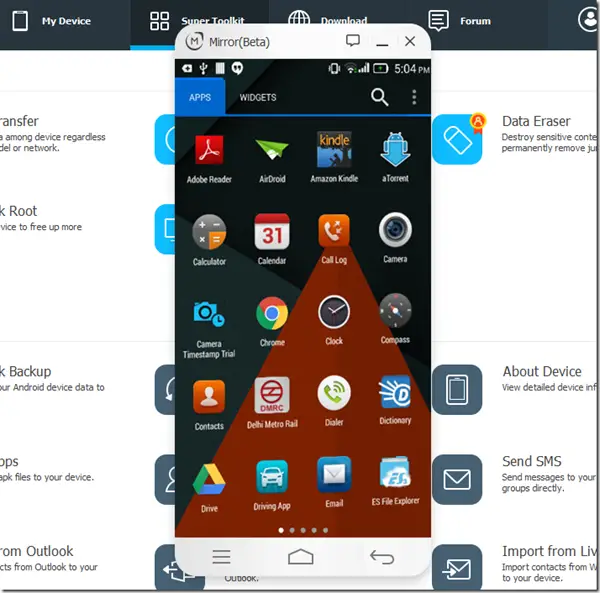 You can also use it to directly download YouTube Videos to your device, import audio and convert file format of media files on your android phone. While selling your old Android phone, you can use Data eraser to completely wipeout all sensitive data beyond recovery.
Airdroid
Airdroid is an Android App which allows you to transfer and manage your phone like some of the best PC suits, but without wires. This does not mean that transfer speed or efficiency is compromised in anyway.

So if you don't have a USB Cable at the moment or perhaps if your USB port is faulty and doesn't permit file transfer. Airdroid will be a life saver. If you are close to to your router, you can transfer several GB of data in a few minutes time. Besides, it adds lots of functionality like Hotspot manager, file explore, etc to your PC.
Mobogenie
Mobogenie is another very popular Device manager which allows you to root your android device, download and set HD wallpapers, Manage files, contacts and Apps. This PC Suit comes with its own mobile market, which can be used to install third party apps, some of which could be useful.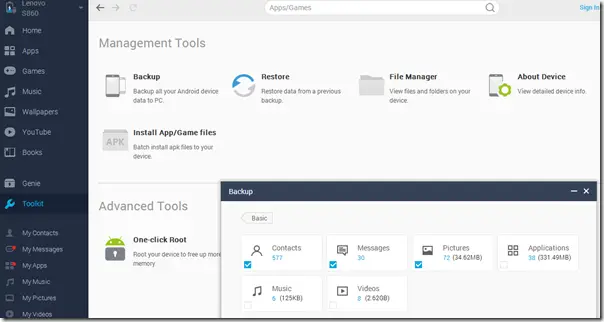 So if you are interested in Mobogenie market, you can always try this PC Suit. This PC Suit also allows you to wirelessly connect to your phone and install apps, thus can come in handy when you are stuck in a situation without USB cable.
MoboRobo
MoboRobo is a very efficient PC Suit which lets you transfer from Android to iOS devices. The app has a very neat interface, fully functional file manager and can be effectively used to manage and backup contacts, media files and more.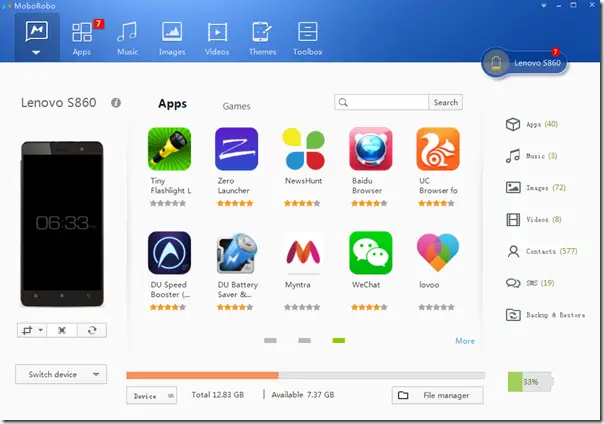 This app comes with its own App market and nudges you to download third party apps. The strong point of the app is how easily it helps you to export XML file of contacts from iPhone, which can then be imported on Android phones to transfer contacts and messages.
Apowersoft PC Manager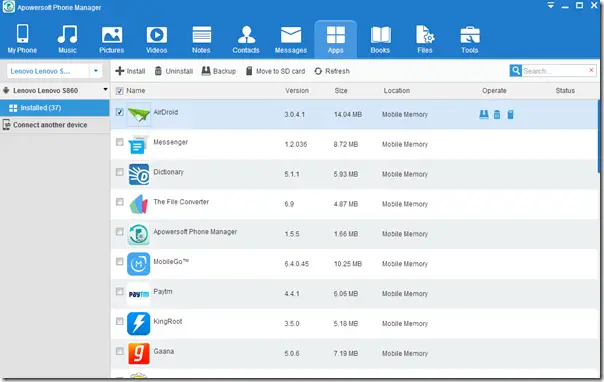 Apowersoft PC Manager is rather light weight, add free proposition, which can be used for basic tasks . You can manage your contacts, move apps to SD card, transfer files, take backup, etc. The app can be used for cross platform transfer of data. You can share data between Android, Windows and iOS running devices.
Conclusion
Out of these PC suits, functionality wise, you can achieve all from MobileGo and Airdroid. You can try other apps if they suit better to your taste. If any other PC Suit helps you manage your Android better; share the wisdom in comment section below.