Cache is nothing but temporary files that are stored in your device. "It can be from an application that you have downloaded or from a website that you have visited. The purpose of cache is to enhance your browsing experience by loading the page faster when the network connection is slow. But, other than the speed advantage, cache also has disadvantages as these files store in your phone's internal storage occupying the valuable space. Hence, you will have to clear the cache stored in your phone to boost your device's speed and to get your device working properly.
Why Should You Clear Cache?
Basically, clearing the cache stored in your phone will free up the internal storage to let you install two or three medium applications, boosts the performance of the device with a noticeable change, fix applications that crash frequently, websites that load slowly and stop responding and to load the latest version of the websites.
Clearing Cache Using Applications
There are several ways to delete the applications and browser cache stored in your device. Firstly, let us see how to get them cleared using applications from the Play Store.
App Cache Cleaner
App Cache Cleaner helps in clearing the cache on your device for the installed apps. This app will clear up the memory of your device to some extent, but it will not speed up your device largely. With this app, you can tap once to clear all cached files to free up internal memory. The auto-clean function will process once an app is launched and it can be set up regular intervals for cleanups.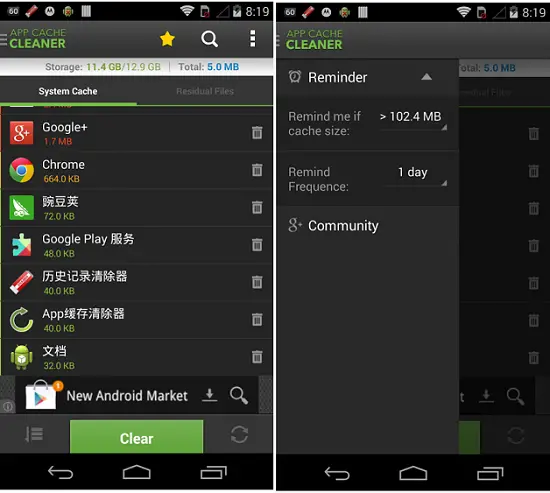 Startup Manager
Startup Manager lets users to disable or enable items when the device is turned on. It will monitor system startup in the background, disable the undesired apps or processes and provide entry manager features. This way, you can disable an application that might cause something to malfunction.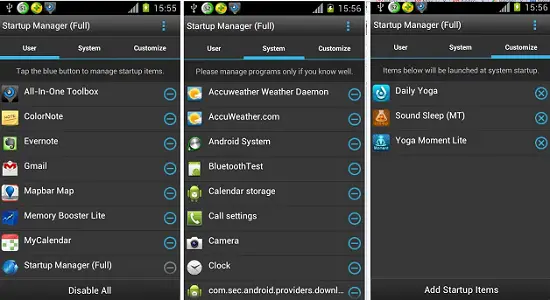 Clearing Individual App Caches
Clearing the cache of individual applications is simple, but it requires a lot of work as you need to go to every single application that creates trouble or that crashes to clear its cache. To clear the cache of applications that cause lag or the ones that crash without affecting the others, you will have to follow the steps mentioned below.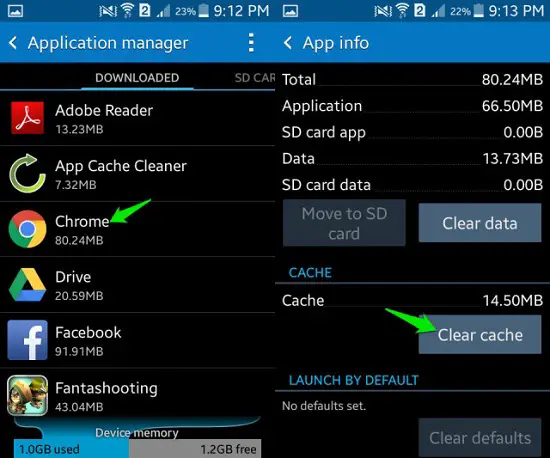 Navigate to Settings -> Application Manager. Here, you will have select a particular application that is causing trouble and tap on it. You will find an option to Clear Cache and once you tap on it, the cached app data will be removed. As mentioned above, this process has to be done for every single app from which you are experiencing trouble.
Clearing All Apps Cached Data At Once
If you feel it is annoying to clear the cache that is stored by all the applications in a single step, instead of going to every single troublesome app to clear the cache, you will have to head on to the Settings menu as in the previous step.
Notably, to clear the cache accumulated by all the applications at once, you will have to go to Settings -> Storage -> Cached Data. Tapping on this option will prompt you to allow it to clear all the cache at once. By getting this done, you might face some unintended effects such as requiring you to re-login to applications. But this feature is available only on those devices that run on Android 4.2 Jelly Bean and above.
Conclusion
If you were facing problems with some applications that were crashing a lot, taking a long time to load the websites and affecting the performance of your device, these steps can be done to speed up your device.