The Moto E 2015 smartphone was launched in India earlier this month for a pricing of Rs 6,999. Now, Motorola has announced the launch of a six colorful interchangeable Motorola Bands and five different vivid Motorola Grip Shells for the handset. Like the smartphone, these accessories will also be exclusive to the online retailer Flipkart.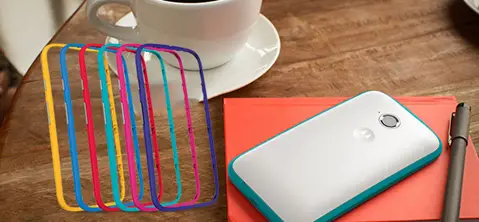 Swapping Bands come in a set of Raspberry, Turquoise and Purple or Red, Blue and Yellow based on the users' preferences.  These render a customized look for the Moto E as they are pretty colorful. Motorola has priced a set of 3 color bands for Rs 999.
To install a new Motorola Band, users will have to line up the micro USB opening at the bottom of the device and snap the new Motorola Band from the back of the Moto E 2015. To remove the band, the users will have to find the indentation on the lower right of the Motorola Band on the device from the back. It has to be pulled using the index finger on that indentation to unsnap the Motorola Band from the device in that corner. Later, the band can be pulled out gently to remove it from the device.
The Motorola Grip Shells have a rubberized frame to ensure additional grip and protection. The shells are launched in a slew of color options such as Yellow, Charcoal, Turquoise, Blue and Raspberry and each one is priced at Rs 899.