Qualcomm's Snapdragon 2014 processor has been in controversies for a long time. Several speculations and rumors surfaced after Samsung ditched Snapdragon 810 for its own Exynos 7420 CPU. But, it's certain that you will see Snapdragon 810 in all Tier-1 flagship devices this year. Now that Snapdragon 810 devices are on review shelves, Let's take a look at what the new Qualcomm Snapdragon 810 is all about.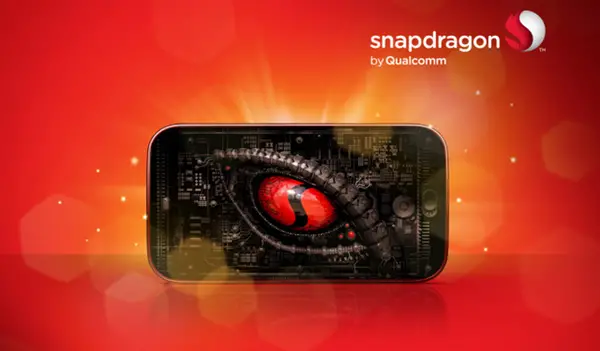 What is Snapdragon 810
Snapdragon 810 is the top of the line 64 bit Application processor from Qualcomm, the dominant player in Smartphone SoC space. Earlier Qualcomm flagship processors that you might have come across listed Krait cores, which are qualcomm's own improvement over ARM architecture. However, in Snapdragon 810, Qualcomm has directly licensed Cortex A53 and Cortex A57 cores from Qualcomm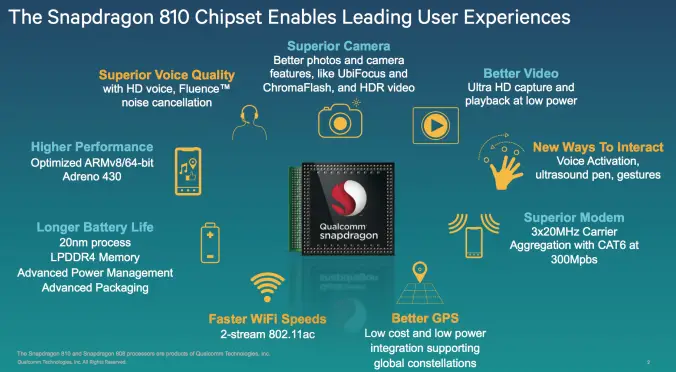 Cortex A53 is the 64 bit equivalent of ARM Cortex A7 architecture (which is extremely popular till mid range chips), following the same principle. ARM has made improvements over cortex A7 to provide a noticeable performance boost. ARM claims Cortex A53 can deliver performance of Cortex A9 cores, while consuming power similar to Cortex A7 cores, which is a good thing.
Snapdragon 810 is a big.LITTLE processor, which means, for heavy loads it relies on the 'big part' which includes 4 Cortex A57 bit cores. These cores provide a tremendous performance boost over 32 bit Cortex A15 counterparts and even fastest Krait cores in flagship 32 bit SoCs, but also consume more power.
Snapdragon 810 is formed on 20nm process, which is more energy efficient than 28nm predecessor like Snapdragon 800 and 801, and will help improve power efficiency. The Cortex A53 cores are clocked at 1.56 GHz, while cortex A57 cores are clocked at 2.0 GHz.
Adreno 430 GPU
Adreno 430 GPU gives a 30 percent boost over Adreno 420 in Snapdragon 805, which was in itself a very powerful GPU. This improvement will mostly be realized on heavy workloads, which means if you are not into maxing out your SoC horespower using heavy apps, this improvement over Adreno 420 won't be noticeable.
Adreno 420 was a big improvement over Adreno 330 GPU in Snapdragon 801 and 800. In short, you won't have to worry about Quad HD 2K displays affecting performance. Similar to Adreno 420, Adreno 430 will be clocked at 600 MHz but Qualcomm has implemented design improvements. Extensive tests by folks at AnandTech conclude that the GPU is still not ready for 4K displays yet.
Memory Interface and Other Changes
Qualcomm has fit in 64 bit LPDDR4 memory interface which will reduce power consumption of memory interface by 20 percent when compared to LPDDR3 memory used in past chipsets.
14 bit dual ISP clocked at 600 MHz will allow manufactures to add better camera's and multiple camera modules efficiently, similar to what HTC and Huawei have done in One M8 and Honor 6 Plus. A new Category 9 modem is also part of the SoC.
For full details you can head over to Official Qualcomm's Snapdragon 810 Infographics page.
Heating Issues?
There have been rumors about heating issues on Snapdragon 810. Reports surfaced that Samsung dropped Snapdragon 810 in Galaxy S6 and Galaxy S6 edge, because of heating issues, and lately HTC One M9 seems is rumored to have similar issues.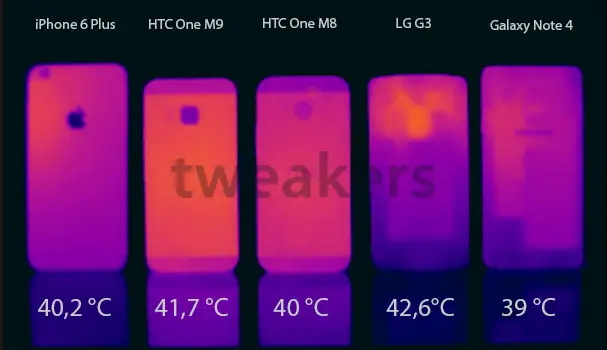 (Image source: Tweakers)
The detailed testing by AnandTech however, denies any overheating for now. LG earlier came forward and denied any overheating issues from Snapdragon 810 in LG G Flex 2. HTC One M9 thermal efficiency has also improved and is now at par with most other modern devices after a new software update. With all this you can safely assume that you won't encounter any extra-ordinary heating in this year Snapdragon 810 flagship phones.
While we talked about LG G Flex 2, here is what Dinesh Prasad, head-devices, Qualcomm India and South Asia had to say, "The G Flex2 is the first smartphone launched in India that comes equipped with the Qualcomm Snapdragon 810 processor featuring octa-core 64-bit CPUs, Android 5.0, the advanced Qualcomm Adreno 430 GPU for stunning graphics performance and an integrated X10 LTE modem with CAT 9 LTE. This makes the smartphone incredibly fast and efficient for multimedia and multi-tasking. The Snapdragon 810 also features fully integrated 3 x 20MHz Carrier Aggregation support for fast, efficient connectivity.
Snapdragon 810 VS Snapdragon 805
We are rapidly transitioning to 64 bit world, though software is still not there to take full advantage of 64 bit architecture. Most apps today are still running 32 bit code. In this transition phase, how much advantage over Snapdragon 805 (which has a lot in common with 810) can you expect from Snapdragon 810?
Though both chips have a lot in common including Hardcore gamers will be benefitted from the improved Adreno 430 GPU, but don't expect display resolution to go beyond Quad HD this year. That is not a bad thing at all, since QHD seems much more than adequate.
Since Snapdragon 810 can connect to three bands at once, unlike 2 bands in Snapdragon 805, you can expect better performance in low signal areas. In other area's LTE performance will be same. Comparing processing powers, Snapdragon 810 will be faster than Snapdragon 805, than to a more efficient 20nm manufacturing node (vs 28nm).
Besides, 64 bits apps are gaining momentum. Android Lollipop ART Runtime is optimized for 64bit computing and all pure Java apps are already benefitting from this. Snapdrahon 810 also has a faster DSP and slightly improved 14 bit dual ISP.
The Competition – Is 14nm Exynos 7420 Better?
Major competition to Snapdragon 810 will be Exynos 7420 and upcoming MediaTek MT6795. Both of these chips have the same basic configuration of 4 cortex A53 and 4 Cotex A57 cores attached in big.LITTLE configuration.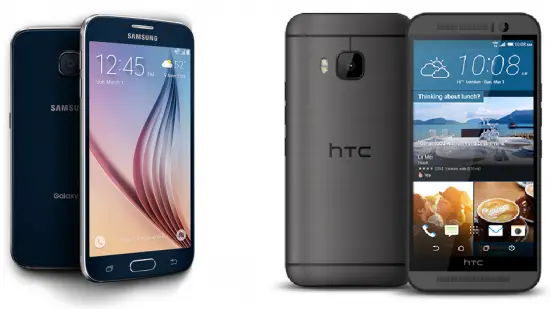 Exynos 7420 is based on a more efficient 14 nm FinFET process, which helps it become more power efficient. Exynos is expected to remain in lead this year as Qualcomm won't be going below 20 nm till end of this year.
BUT, in order to distribute task among 8 cores, Qualcomm is using its own task scheduling system, which will offset Exynos power and performance advantages over Snapdragon 810.
While Samsung's Exynos 7420 chip seems to be leading in Multi core (all cores firing at full throttle) and Single core benchmarks, it is too soon to confirm this lead. MediaTek's MT6795 will be significantly cheaper and leaked Geekbench 3.0 scores put it in between Exynos 7420 and Snapdragon 810. Again, since there is no device actually running on MT6795 these leaks might turn out to be false.
Conclusion
Considering the overall chipset performance, Snapdragon 810 is not a dud as several discrepancies in its track record indicate. It is a worthy flagship smartphone SoC for 2015, but this time, Qualcomm won't enjoy a dominant position as competition has drawn a lot closer.
Reference – AnandTech