I was looking forward to buy a gaming laptop which should be a great value for money and after a lots of search and Linus Tech Tips review I found the best one suited for my needs as it was one of the best option in the final list of the machines I decided.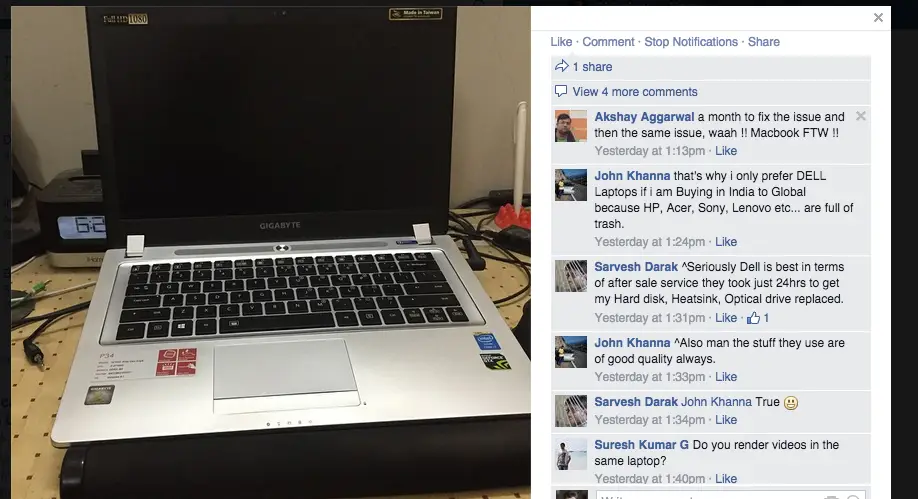 The Beautiful World of Computing
After a lot of consideration, reading some reviews, I finally bought Gigabyte P34V2 from Amazon.com and got it imported to india. The first moment I turned the display on and saw it, it looked beautiful as it was my first full HD display.
But I never knew that it wont last long for me, as I decided to use the laptop for some simple video editing and some other things I do as a professional blogger and gadget reviewer. I decided to carry it on my first business trip to Bangkok for Samsung Forum 2015, I edited all my videos on the event day, it worked fine and then I came from the venue to my room hotel on one day and then I decided to reply to emails and then got a call in between so I put the laptop to sleep.
How My Computing Life Became Crappy
After my call ended in the next 20 minutes I tried to resume my work by opening the laptop lid and my surprize it never came back from sleep mode. I tried connecting the charger considering that battery is empty but it never came back from sleep mode as it was dead machine.
I came back from my trip and submitted the laptop to the gigabyte service center in my home country (india) and submitted the laptop to Nehru Place, Delhi service center and they diagnosed that the motherboard of the laptop is dead and they need to replace it. I was thankful to god that this machine came with a global warranty and they said they will import the motherboard and fix it.
Weeks passed and then keep telling me that the part of is one the way to their bangalore office and then it will come to delhi, after a week I had to leave for a another work related conference MWC 2015 happening in Spain.
I left for it and kept calling the service center guy Mr Inderjeet who kept saying the same sh*t again and again, I came back to india after 10 days, still they were waiting for the part, I did many followups with so many calls everyday.
Finally one day they called me said the motherboard now fixed as replaced it with the new one, that day it was more than a month from the date I had submitted my laptop.
A Ray of Hope Brought Happiness in my Computing Life
I thought its a good news, let me go and pick the repaired laptop, I went to the service center the other day tested everything and it was working fine and then a week passed and I was using the laptop without any issues, it felt like new laptop all over again.
Sudden Death Second Time
One fine day ( Two days before writing this blog post) I was working on the laptop casually and browsing some tech feeds and then decided to have lunch in my office.
I had my lunch and came back to the table and decided to resume my work and got another shock as the laptop is dead again. This time again it has stopped booting up, same problem again. I had all my data on it and some important files opened but all that important data gone, its dead again.
Re Run To Service Center
Now what? yeah the same cycle again ? no this time I have decided to raise the issue and get Gigabyte USA held responsible for my torture, my work affected by this and also tell everyone how crappy they are and their machines are.
Lets see if they wake up from the sleep and do something in this matter, I want full refund of my money which is $1449 which I have spent or they need to give me new model as a replacement.
It enough for me now, I cant waste my time and my mind again on this crap I have bought on the name of the gaming laptop.
My Final Thoughts on Gigabyte Crappy Laptops
If you like this blog post and would like to support please share it on facebook and twitter and tag @gigabyte_usa in your tweests or tag their facebook page https://www.facebook.com/GIGABYTE.US?fref=ts also use the hashtag #CrappyGigabyte