Are you a social media lover? Do you know that you can't live without seeing your facebook account's notifications? Some of you can't even sleep without posting a photo on your Instagram accounts and some don't even realize that they are infected with a #hashtag virus! But the truth is it's incurable now and it may dig a big hole in your pocket If you are doing all this by using data packs on your smartphone rather than WiFi.
In spite of the fact that you can practice some control on your use of the data packs, still you generally run a danger of over usage and being slapped with over-limit data usage charges. This could be more baffling than it sounds and can take the fun out of using your android smartphone.
You'll be surprised to know that you can reduce the mobile data consumption by tuning some of your smartphone settings and using apps with proper configuration for reduced data usage. So here are the best 5 ways to decrease mobile data usage on android smartphone:
Enabling Data Compression
In the scenario that Google Chrome is your primary choice for web surfing, you may enable its in-built data saver mode by going to Settings > Bandwidth management > Reduce Data usage. This will compress information before it is downloaded to your smartphone, along these lines decreasing your data usage altogether. The main drawback to this arrangement is that picture quality may get downgraded.
If you're not using Google Chrome as your primary browser, you can download Opera mini browser from play store as it also comes packed with the data compression feature.
Opera Mini is an web browsing app  fueled by Opera's optimization proxies. The easy-to-use UI and web page optimization have made Opera Mini a standout amongst the most downloaded web browsing apps.
Installing a 3rd Party Android Download Manager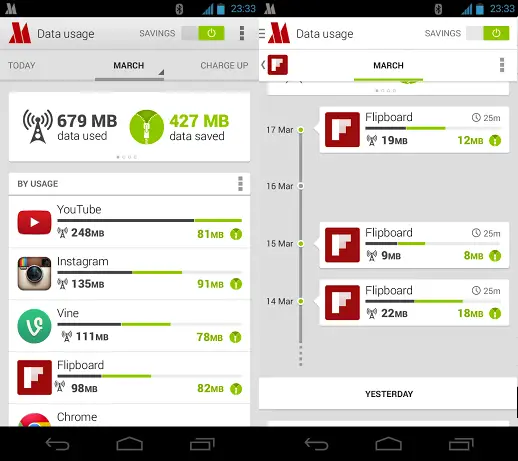 You can also download Opera Max app, It is an android download manager which can manage other apps installed into your smartphones in order to reduce their data consumption by the help of data compression technique.It meets expectations by compressing incoming data of different sorts, including videos.
Opera MAX can trim a 17MB video down to only 5MB, with the trade of quality, obviously. Best of all, the application is available free on playstore so nothing is preventing you from trying it.
Restrict Background Data
Many applications which runs in the background can gobble up your data pack without you actually knowing. With the latest upgrades in Android OS, you can really check which applications are using the amount of data by going to the Data Usage tab in settings and clicking on an individual app mentioned there.
You can restrict the data usage for each and every app while running on data pack and trust me It can really help you to increase your data pack life.
You can also set data usage warnings, when the data consumption will reach to that limit you will see a warning notification on your android smartphone home screen.
Tune up Auto Backup feature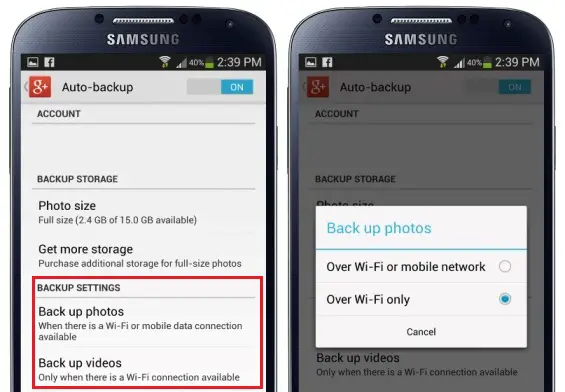 Make sure to have a look at your Google account sync settings. Presumably you set it to auto-sync. You should make sure that the Auto-Sync ought to be kept off for data hungry applications like Facebook and Google+ as they use it to catch up bulky docs like pics & videos. Also, make sure to check the box in which It says " Backup the photos / videos etc only when WiFi network is available".
It is advised that you should disable auto-sync for those apps only which you don't feel much required to be synced.
Use Facebook Lite App
If your most of the data pack consumption is mainly due to facebook app activity then we truly recommend you to think of trying this app.
The application is a modest 252KB download. It guarantees fast load times with effective data usage and incorporates Facebook's messaging features as well. It is designed keeping in mind low speed internet connectivity areas and 2G networks. Hence, It can also help in case you're getting very low speed data connectivity.
Conclusion
You can apply a couple of our tweaks or every one of them relying upon your needs and the amount of data usage you really need to save.
It's quite possible to make your data pack last longer by using these suggestions carefully. Have I missed anything? Are you using any other way to decrease data usage on your android smartphone?
Don't forget to share it with us in the comments section!