The name VLC is not a stranger to anyone because it one of the most used Open Source video player software running on most of our laptops. However, the story is not the same when it comes to its adaptation over portable devices. VLC has always been all about playing video files over your laptop and that is the reason it supports almost all the formats of video available across the digital world. If there is any file format which VLC cannot play then there are good chances that other media players like GOM Player, Real time Player, KTM Player and other will also not be able to play that format.
The target audience and their characteristics of portable devices are much different, because these portable devices are being mostly used for viewing their files, watching videos and listen to their songs. Hence they would want to accomplish these features under a single application in order to keep minimum number of application on their smartphones. Working along the same lines VLC thought of merging the audio and video player into one and it looks really good with the new UI layout.
Use VLC player to watch videos and listening Music
Make sure that you have updated the application before starting off with this How To. Now, tap the highlighted section for the options and choose 'Audio Files'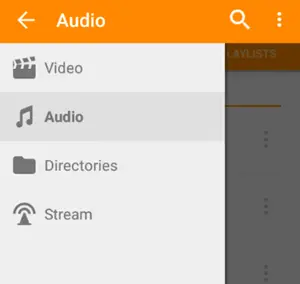 This will actually filter out all those downloaded audio files on your smartphone and put them into a list. You can choose to create playlist, look at the songs by their genre, artists or albums (something which we usually see in all the MP3 Player applications). If you have been Google default audio player known by the name of 'Play Music', then you should definitely change to this application, in all the aspects they look quite similar but VLC allows you to set any song as a ringtone.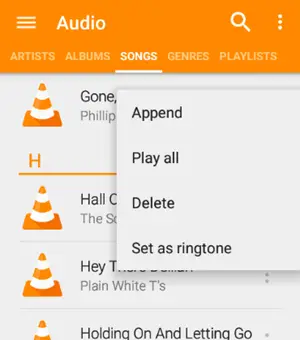 Apart from this, if you will take a look at its Video files section, then you will realize that all those gestures of MX Player (a popular video player application on Google Play Store) have been integrated in VLC also.
Conclusion
So, even if you are music listener or movie watcher, you will really love this application because I can clearly see two most widely used applications on Android devices clubbed into one. We will highly recommend you to install this application and give it a try and stay tuned to know more about such updates for your Android or iOS devices.