All of us capture most of the important moments of our life using our smartphone cameras, because they are the most quickly accessible source available with us all the time. We want to make sure that all of us should stay with us and hence we keep on taking their back from time to time. If we start backing them up on our HD Drives then they tend to be ignored by us because we cannot access them most of the times, hence the users started switching towards the cloud drives to access such media files. Google Drive is the cheapest and most easy way to acquire a good amount of cloud space. Where services like Dropbox, SkyDrive or other service providers offer you 5GB space for free, Google Drive can help you with 15GB of free space.
So, I usually prefer to save my smartphone photos using the Auto-backup feature and once a quiet of them are uploaded, I take out some time and remove or delete those unwanted images. In this article, I will tell you that how you can enable this feature of Auto-Backup and be smart in saving a good number of photos over your Google Drive. Just follow the steps mentioned below.
Enable Auto-Backup of Photos on Google Drive
If you own a smartphone by Motorola or from Nexus series then they will have stock android and which means that it will already have an application known by the name of 'Photos' installed on the smartphones. However, in case you don't have it, install it, open it and then tap the highlighted section mentioned in the screenshot.
Choose the Settings option and then you will see the option of Auto-Backup of those photos.
Tap that option and then enable it to start backing up of those photos. Now you can see there are list of other options available under that setting.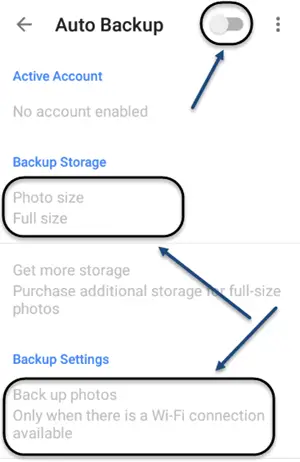 You can choose to upload the images in their original size (which will consume a good amount of battery) or you can choose to upload a compressed form of those photographs, which will allow you to save a good amount of photographs in that space of 15GB.
With the help of those options you can also chose to upload them over WiFi network only or Cellular Data network also.
Conclusion
The Auto-Backup feature might be a very common feature with all the cloud drive providers but the other features tagged with it like compressing the photographs, choosing the right media for uploading them and similar others improve the user experience with Google Drive as compared to its competitors. Let us know your opinion about this feature and stay tuned to know more about it.