There are times when you would want to share recorded videos over data network. In a world of HD, Full HD and 4K videos, a simple 1 and half minute video recorded from your smartphone is likely to exceed 100 MB. You most probably will have to compress video in order to save precious data pack. Here are some apps which can help you do just that on Android, iOS or Windows Phone.
Video Compressor
Video compressor is a simple app which works as advertised. You can specify the output folder, output file name and the size in MB that you desire. Just hit the convert button and wait. You can track the progress in Notification shade. If you hit convert more than once, the process will be queued for multiple times.
Video Compressor by Android Pixels
This is another Video compressor app which also allows you to chose how many seconds worth of compressed videos you need. The app supports MP4, 3GP and avi formats. You can directly share videos to Gmail, Facebook, Wechat, Whatsapp etc. The app gets the job done, although its slow and heavy on advertisement. You can not specify the The app is available for Android and iOS.
Vid Trim
Vid Trim app doesn't treat video compression as its primary function, but you can compress videos using transcode option. The app allows you to increase or decrease video size and choose between medium, low or high compression quality. Choosing 144p and low quality option, we could compress 79 MB video to just 1.3 MP. Additionaly, this app allows you to trim videos, grab still frames from video, convert to MP3 and merge videos. The pro version adds filters and several other options.
Video Slimmer App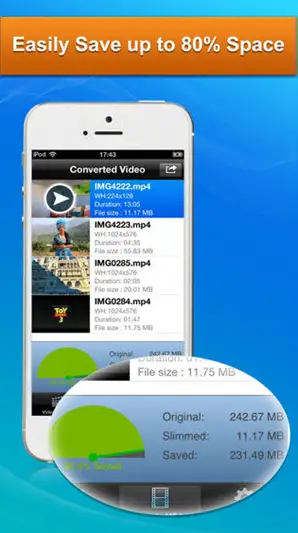 Video Slimmer App allows you to compress video files on all iOS devices. You can compress by up to 80 percent using this app. Besides compressing, Video Slimmer allows you to trim or merge videos, rotate videos, customize video dimensions and share them directly from the app.
Video compressor for Windows Phone
We have already addressed two apps by the same name, but Video compressor for Windows Phone too deserves a mention, as it is the best video compressing option for Windows Phone users. You can choose a lower resolution, change quality, view progress while conversion is going on, and do a lot more. The app also has a dedicated "WhatsApp Optimized" preset for best possible quality within whatsApp limit.
Conclusion
You can use these apps to compress video files while sharing them on your data network or on WhatsApp which has a 16 MB limit. If any app which isn't in the list and works better for you, share the wisdom in the comment section below.