Auto play of videos is a concept which we saw in Buzzfeed and now it seems that everybody is after that feature. YouTube recently implemented it. Once you click the play button then you can just sit in front of your laptop and let YouTube select the videos for you and put them into the queue. However, this feature has been used quite differently by Facebook smartphone application. This feature allows your smartphone to start playing the video as soon as you stop at that certain frame. However, it has been annoying for many users because they do not want any video to play on its own when they are using Facebook with the help of Cellular Data Packs.
We have come with a smart solution which can let you put certain condition over this feature. In other words, this feature will work if you are using Facebook with the help of WiFi on your smartphone, else this feature will stay disabled. Just follow the steps mentioned below.
Disable AutoPlay and Enable SmartPlay on Facebook App
Go to the Application Settings, and then navigate into video and Photos option.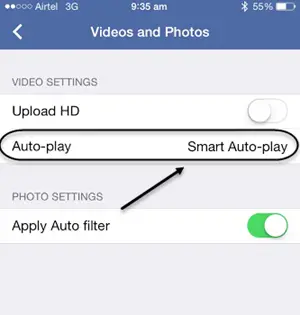 You can see that infront of AutoPlay Smart Auto-play is written, this is because I already keep this feature enabled on my smartphone. Tap that option to know more about the option for this feature.
From this screen, choose the most appropriate option for yourself.
Conclusion
Auto-play might look good in case you are connected to WiFi and are not worried about how much data your smartphone is consuming. This feature will be applicable only for those video which have been uploaded on Facebook and not embedded to Facebook via some other source like YouTube, Dailymotion etc. So, do let us know your opinion about this tip and as always stay tuned to know more about such tips related to these popular apps.