We all Smartphone users wish and expect a lot from our powerful devices. One of these many expectations is wishing the the audio in a video to play even in background. Even if we don't wish so, then some times we face issues with YouTube, that while playing a video on YouTube an important call comes ringing and after we receive that call and get back to the YouTube, then the buffering gets lost and then we need to start it fresh.
And that's really annoying! So how to solve this issue and fulfil our wishes and expectations of audio Background playback from a video on our Smartphones?
For this I have brought you today 3 different ways for Android, iOS and Windows Phone. Read below to know more.
For Android Devices
Well Android devices has a long-lived tendency to solve almost all their issue with the help of some really awesome and dedicated bundles of creative apps for almost each and every purpose. The same way there's one very common and well-known App for the Android users to help, solve this issue. That's MX Player, yes I know what you are going to say –"That its a Video playing App", Ofcourse it is, But there's a less-known feature of this App. MX Player allows users to play audio from videos stored in the phone while in background. The steps following which you could enable this are :-
Open MX Player in your Smartphone
Open Settings by tapping on top-right.
Tap on Player
Scroll down and look for BACKGROUND PLAY
Under that Tap on the check box for Background play ensure that "Background play (audio)" is enabled (i.e. its check box is selected)
Some other dedicated apps for Background Audio Playback in Android are :-
Background Video Player
uListen
For Windows Phone
Just like Android users, currently Windows Phone users are also dependent on apps for this purpose. For Windows Phone users I would recommend them to use VLC beta app version 1.0.7 from the store. This App's latest update allows Windows Phone users to enjoy video playback in Background really smoothly and hassle free. Other than this we are still searching fro more alternative options, but haven't yet discovered any of them. If you know any more ways to enable video playback in Background, then do let us know about it.
For iOS users
Now apart from Android and Windows Phone users, iOS users do get more than just one option for enjoying video playback in Background.
First Method :
For using this method at first you require a default Safari or Chrome browser on your iPhone as this method might not work on third-party browsers.
Open your browser in your phone either Safari or Chrome
Search for YouTube
Open youtube.com
Find a video and then press play button
Tap on Home button, go to home screen
Open Control Center and Tap on Play
Now you can listen to any YouTube video, it can be of any length and you can simply pause/resume the video right from the Control Center from the Home Screen by tapping the middle button.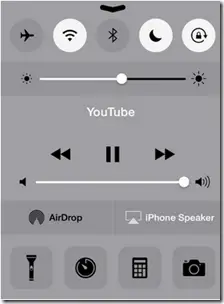 Second Method :
Use apps from iTunes, well using Apps are the most common one-stop solution to almost all problems in Smartphones. Similarly for iOS you could use apps like :-
Third Method :
This one a Jailbreak Tweak for iOS 7 to enable your device to play videos in Background directly from the official YouTube app. Follow the Steps below to apply this tweak :-
Open Cydia
Search YouTubed (by BigBoss) (This is generally a default source but if you don't have this as a source you can add the BigBoss repo URL again by going to Manage > Sources > Edit > Add > http://apt.thebigboss.org/repofiles/cydia/)
Download and Install it
After installation is complete, now open up the official YouTube app in your iOS device and choose any video which you want to listen to in background. Play it like a normal video, press the home button. The audio from your chosen YouTube video will now continue to play in background like normal and it could controlled from the Control Centre (Note :-You can only pause and play).
Conclusion
So now as you have got these many solutions for your one meagre problem, go and try it. Do let us know your reviews/feedback in the Comments Section below.