Motorola is trying to lead the low-end mobile device market with its Moto E and Moto G line of smartphones these days. It has very serious competition from certain Chinese manufacturers, especially in India. In order to give a better camera experience to its users, Motorola decided to move its Camera App to the Play Store so that they can update the camera without waiting to release the entire firmware for the device. It is highly beneficial if you have a carrier locked device because after Motorola even pushes a firmware update, the carrier takes certain more time to push it to their devices.
Motorola made this move late last year, and since then, they have released numerous updates to their camera app. The initial updates focused on bug fixes mainly, but then Motorola updated their app to allow Manual control of focus and exposure on their app. Here is a small guide on how you can do that on your supported Motorola device.
Before you begin trying it out on your phone, be sure to head over to Google Play Store and check if this application is compatible with your device or not. If it is, make sure you have the latest version installed.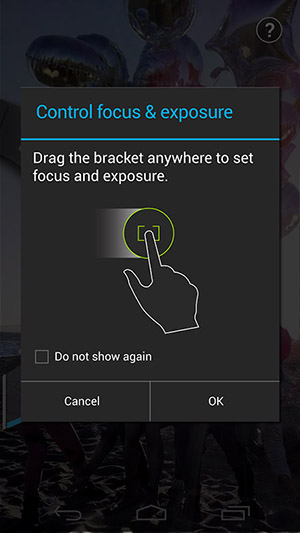 When you launch the application on your device, you should get something like the image above but if you don't remember getting that, just remember to drag the square brackets on the screen to the part of the image frame you want to focus on and expose. Focus and exposure on the camera app are set together, and hence you can not focus on one object while metering for another.
However, in a recent update Motorola launched the ability to manually control the exposure of the image by using a slider. It is available as a circular slider just outside of the square brackets on the focus point. It will look something similar to the image below.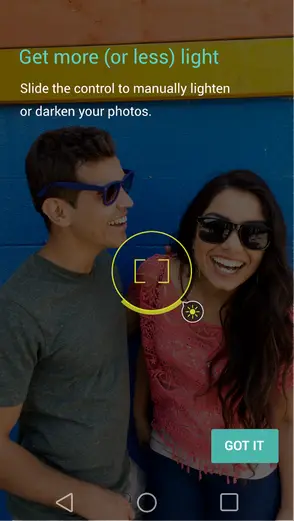 You can just drag the slider around to change and control the exposure just the way you'll like it on your picture.
The Motorola camera app also features a variety of other features which you can use to capture high-quality pictures on your Motorola smartphone. Some of the features include the following.
Panorama shots with locked exposure
Slow Motion video
Continuous Picture capturing by holding down your finger
High Dynamic Range Photography or the HDR photography
Conclusion
Motorola made a strong impression and move when it moved the app to the Play Store. This allows them to update their camera technology by simply pushing out an update for their application on the Google Play, which is much easier than an OTA firmware upgrade. The discussed Motorola camera app is not compatible with all Motorola devices unfortunately and we wish to see this change in the near future.